When logged in you can personalise your front page with information important to you, if logged out you can subscribe to your favourite categories by email. Welcome to Blacknet.
Radical Awakenings: Recognizing Racism and White Privilege
June 26, 2020 @ 7:00 pm

-

10:00 pm
Organiser:
Candice D'Meza
Event: Radical Awakenings: Recognizing Racism and White Privilege
Start Date: 26 Jun 2020 7:00 pm
End Date: 26 Jun 2020 10:00 pm
Venue: Online Event

An interactive workshop, inspired by Theater of the Oppressed, that uses art to help explore topics related to race, allyship, and empathy.
Radical Awakenings [RA] is an interactive Zoom workshop for deepening skills for critical race dialogues. Instead of a traditional lecture, RA uses arts-based strategies from Augusto Boal's Theater of The Oppressed [TOTO] to aid participants in uncovering and unpacking their own experience as a means of exploring the topics of Racism, White Privilege, Empathy, and Allyship. Facilitated by educator and professional actress Candice D'Meza, B.A., MPA.
This workshop was developed with funding in part by the City of Houston through the Houston Arts Alliance.
REGARDING DONATIONS:
The workshop is pay-what-you-can to increase accessibility for all, especially those in our society who are most vulnerable and have limited access due to structural oppressions, such as race, class, gender and gender identity, sexual orientation, etc. If you are privileged, racially and/or financially, please use the chart below to inform your donation range. Your donation is not only an investment in the self-work that enables us all to become active shapers of the worlds we share, but it provides a place to value the often under-valued labor (and emotional labor) of Black women and move towards equitable sharing of resources . This work is valuable. I invite you to consider donating in accordance with the principles of equity and value, accountability and atonement, and access and privilege. [Use the graphic below as a metric.]
If you are a Black or Indigenous person, donate what is comfortable for you. If you are a Person of Color or white-presenting Latinx, please consider your proximity to white privilege as you donate.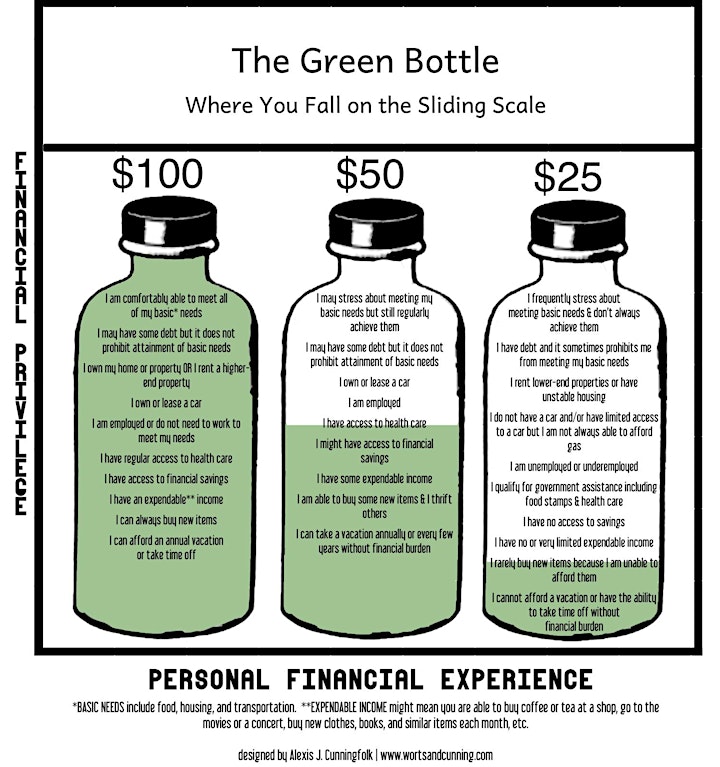 Thanks for visiting, you can use the button below to quickly share with your friends, family or colleagues
Related Events