Ancestors Dreams
June 6, 2020 @ 12:30 pm

-

5:30 pm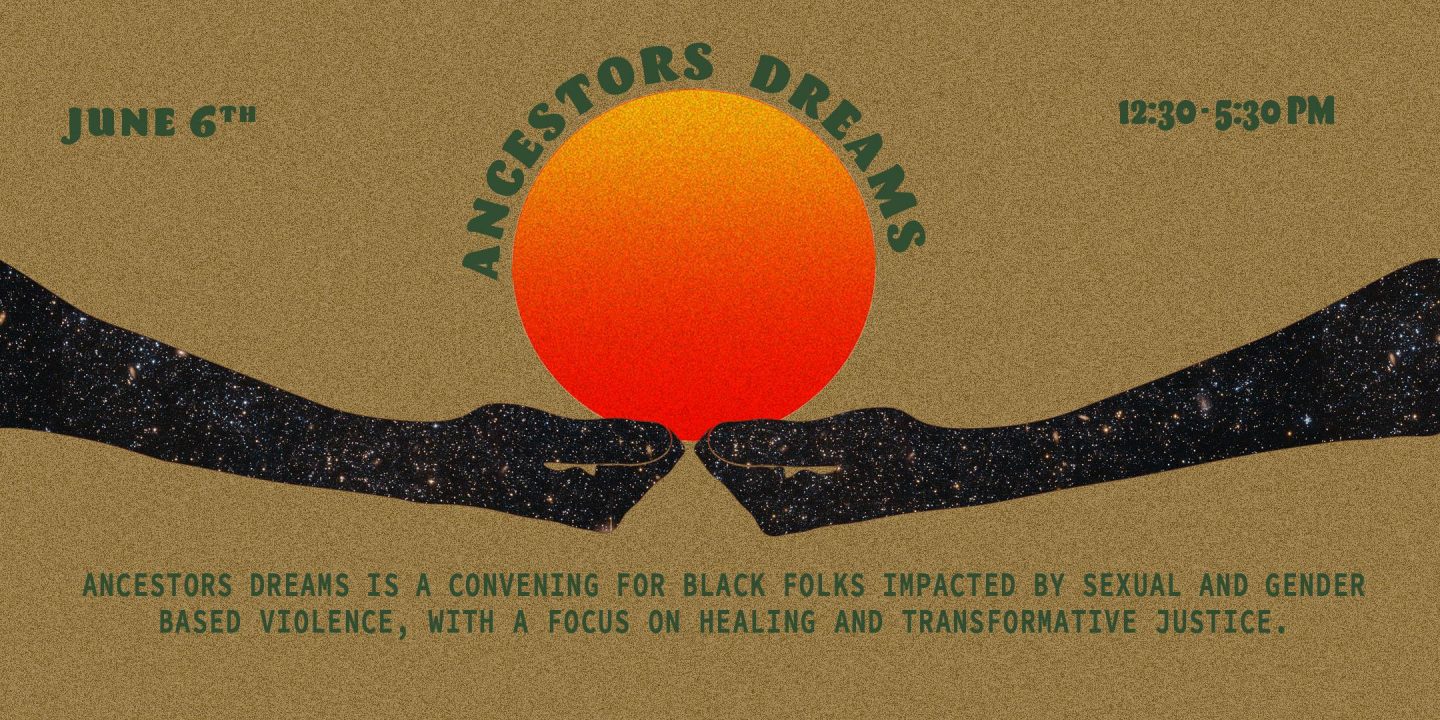 Thank you for visiting this page. The following sections are listed below 
– Land Acknowledgment 
– Information about Ancestors' Dream Online Convening 
– Event Schedule 
---
LAND ACKNOWLEDGMENT 
This event has been organized on the unceded and unsurrendered land of:

Ottawa – The traditional unceded territory of the Algonquin Anishnaabeg people.Omàmiwininiwak (Algonquin)
Toronto-  The Ancestral Traditional Territories of the Ojibway, the Anishnabe and, in particular, the Mississauga's of the Credit whose territory we are gathering on today. This territory is covered by the Upper Canada Treaties. 
Hamilton– The traditional territory of the Haudensaunee and Anishnaabeg. This territory is covered by the Upper Canada Treaties and directly adjacent to Haldiman Treaty territory. 
Meaning that these lands are Indigenous land and they will be respected as such. We invite everyone involved in this event to take a look at what that means to them and their intersecting identities, and further their understanding of how colonialism affects all of us.
Learn more at https://native-land.ca
For Black people, this especially involves taking into account how our presence as folks who did not arrive* here in the same way as white people – and instead were most likely forced here (directly or indirectly) by factors of white supremacy – still perpetuates harm against Indigenous people that we are responsible for.
This also involves acknowledging the often overlooked presence of Black Indigenous people who have to deal with both anti-Black racism and colonialism in very different ways than others.
*The term for black folks who arrived on Turtle Island, more specifically birthed from Black Scotians, is arrivant.
"A person who is of African descent or Black individual who arrived on Turtle Island (the Americas) by force, coercion, or through settler colonialism of their own lands.
The term is used primarily to describe those affected and displaced on Indigenous land historically through the West African Slave trade. The term also includes contemporary Black migration caused from the settler colonialism that forces individuals to leave their own homes. While similar, this differs from refugee status, given the approach in which black folks were brought to this land."
Cred: Jade Byard Peek, Black Like Me 613, Native Land
---
ABOUT
Ancestors Dreams is an afternoon convening that brings together subject matter experts, community members and practitioners that are collectively interested in healing and transformative justice, specifically for black survivors/ folxs impacted by sexual violence/harm. Ancestors Dreams is a much needed space for black folxs, within the intention that folxs will have space to engage in critical conversations around transformative justice and accountability, while also holding space for pleasure, sexuality and liberation. Please note that this space will center the experiences of black folxs
Speakers bios and workshop will be posted on our facebook page: https://www.facebook.com/events/258656868709123/ 
ASL Interpretation will be avaible 
*** We are asking that non-profits, educational institutions and all other entities and/or individuals that have financial means to consider donating to offset the cost of the event please email yamikani.msosa@gmail.com***
---
SCHEDULE 
12:30-12:45pm
– Land Acknowledgement
– Opening +Logistics   
– Webinar Format 
12:45-1:45pm
First Teach-In # 1 – Transformative Justice with Moka Dawkins, Rachel Zellers & Rania El Mugammar
2:00pm-3:00pm ( Break Out Zoom Rooms )
Workshop #1 – Burlesque – Body Love with Danity Smith & Ravyn Wygnz
Workshop #2 – Plant Medicine for Healing with Denique 
Workshop #3 – Grounding, Self Holding  Yoga with Stylo Starr
3:15pm-4:15pm
Second Teach-In – Sexuality, Pleasure and Liberation with Rosy Douge-Charles, Luna Matatas, Lydia Collins  
4:25pm-5:25pm ********* PLEASE NOTE THIS IS A POC ONLY SPACE**********
–  Meditation with amani olugbala and damaris miller.