BETTY WRIGHT LIVE IN CONCERT
July 20, 2019 @ 8:30 pm

-

August 11, 2019 @ 10:00 pm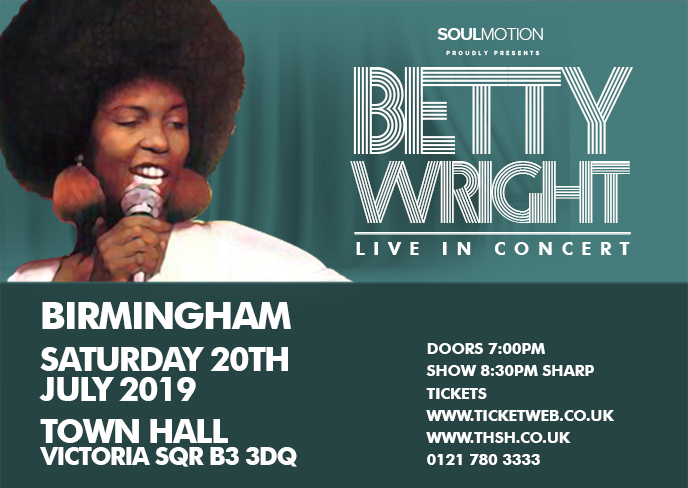 One of the most talented and underrated vocalists of her generation, Betty Wright has only recently received a fraction of the accolades she deserves for her notable career spaning 40 years as a singer, songwriter and pioneering independent recording artist.
A native and lifelong Miami resident, Wright landed on the music scene as a teenager with the minor hit "Girls Can't Do What Guys Can Do" but became a star with her 1971 smash "Clean Up Woman," a love-gone-bad song the theme of which belied the fact that Wright was only 18.  It was the highest charting song of Wright's career but not nearly the last.  While she never again made a significant dent on the pop charts, Wright continued to score on R&B radio relationship-driven songs like "Let Me Be Your Love maker," "Shoorah Shoorah," "Tonight Is The Night" and "Where Is The Love."
Her hit making days were largely behind her when she moved to Epic Records in 1981 for the enjoyable but sadly overlooked Betty Wright, featuring a fine Stevie Wonder song ("What Are You Going to Do") and two excellent ballads ("I Come To You" and "One Bad Habit").  However, she received new interest in her music via her classic guest appearance on Richard Dimples Fields' "She's Got Papers On Me," playing the role of the scorned wife who was going to take her scorn out on his hide.
In the mid-80s Wright took a pioneering leap, creating her own independent record label (an almost unheard of move by a female artist) and finding a second chart life through songs like "After the Pain" and "No Pain No Gain. "Wright continued recording through the 90s and eventually became an icon for a new generation of singers ranging from Angie Stone to Mary J. Blige to, Joss Stone.