Black Heroes Foundation – Presents "The Debate"
May 12, 2018 @ 2:30 pm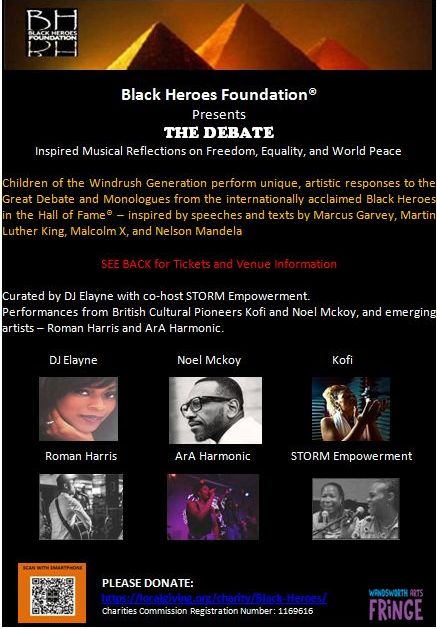 Black Heroes Foundation®, a charity, set up in 2016, to carry on the legacy of Black Heroes in the Hall of Fame® creator, Flip Fraser (who sadly passed before his dream of creating the Foundation was realised), will be showcasing "The Debate" – a musical reflection on the contributions of  people of African descent on freedom, equality, and world peace – as part of the Wandsworth Fringe Festival – on Saturday, 12th May 2018 at Fresh Ground, 68 Battersea Rise, SW11 1EQ at 2:30pm and 7:30pm.
Curated by DJ Elayne and co-hosted by S.T.O.R.M Empowerment.
With performances from children of the Windrush Generation – such as South London's very own international artist, and cultural pioneer, Noel Mckoy (James Taylor Quartet/Stax Band), Kofi, and emerging artists, Roman Harris and ArA Harmonic.
There will also be music, spoken-word, short films, interviews with community heroes, and educational games.