Black Influencers
November 9, 2017 @ 5:30 pm

-

9:00 pm
Event Navigation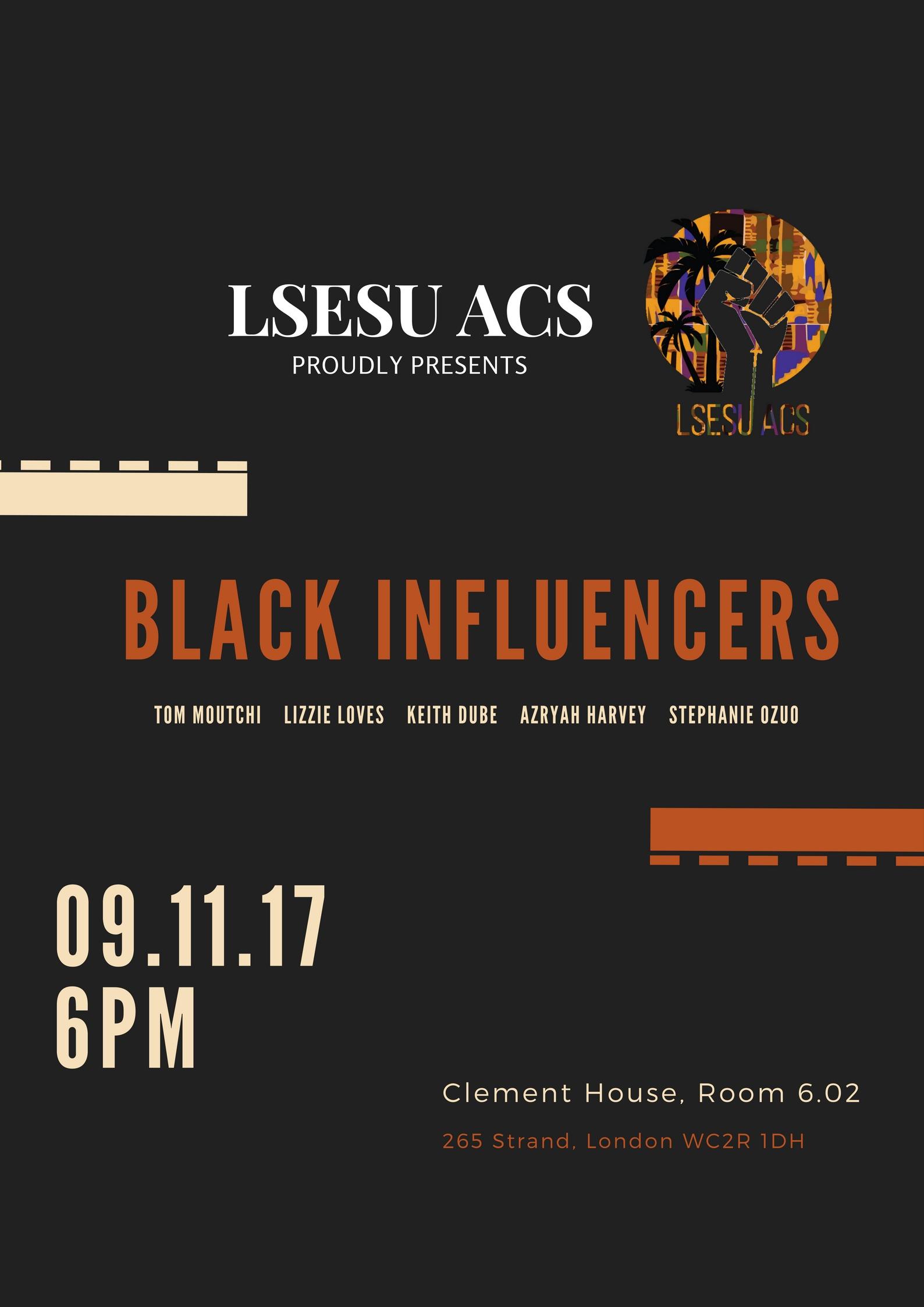 Black Influencers is a panel discussion created by the LSESU ACS. The aim of the panel is to facilitate a discussion with social media influencers of African-Caribbean descent, in the United Kingdom. The discussion will be broken into themes: social media career, race, sex and relationships. The panellist will be asked 2-3 questions around those themes. 

Location: Clement House Room 6.02, LSE, 265 Strand, WC2R 1DH (next to the Post Office).
Notes:
– Your ticket is only valid till 6 pm. 
This year our panellist are: 
Tom Moutchi – @TomMoutchi 
Tom Moutchi is a new breed of entertainer who exemplifies what it means to be a part of what has been dubbed the 'DIY generation'. When Ivory Coast born 24-year-old Tom first picked up his phone to record comedy Vines and Instagram videos with his friends as 'Tommy Xpensive', he could not have predicted the impact they would have – gaining millions of views and a huge youth following. After taking a leap of faith and hanging up his coat as Tommy Xpensive, Tom directed his focus onto perfecting his craft as an actor. After spending a year at Identity School of Acting, this year Tom has launched into roles such as Ike in the West End play Twitstorm and more recently wrote and starred in multiple comedy sketches for BBC Two show Famalam. Tom's outstanding talent work ethic and determination has not gone unnoticed, in 2016, he was nominated for a Screen Nation Award for Favourite Online comedian and continues to be a trailblazer for young aspiring British actors.
Stephanie Ozuo is a 23 year old entrepreneur and social activist living in London. Passionate about BME welfare and issues affecting British youth she set up her o2 Telefonica sponsored project "Cover My Skills" to help 16-24 year olds gain real life practical skills through engaging and interactive workshops. She is also the owner of Cover My CV, a one stop shop that helps students and graduates break into their desired industry by providing quality cover letters, CVs and personal statements. In her free time she uses her platform to raise awareness on social injustices and gender inequality. Her opinions have been featured in news outlets such as Aljazeera, RT, VICE and Buzzfeed. She is known for starting the #AbbottAppreciation trending topic and holding an event for MP Diane Abbott with notable Labour Party politicians in attendance.
Keith Dube is a 27-year-old; South London based writer, radio presenter, mental health advocate and one of the hosts of a multi-award winning podcast.
In January 2015, Keith decided to open up and share his mental health struggles with the world. He wrote about living with depression and coming to terms with it enough to face it head-on. Within a year, his stream-of-consciousness blog ended up leading him towards making his first ever @bbcthree documentary, #BeingBlackGoingCrazy airing in 2016 and on BBC 1 in 2017. He has been praised nationally for putting the issue of black mental health on the map. He has also written a self-help book titled "Kind of like a self-help book"
After being thrust into the spotlight as a cast member of the hit web series BkChat Azryah is using her exposure and influence to entertain and affect change through education. Starting with her personal blog, azryahsmindmap.com, consisting of think pieces on social issues from relationships, to sexuality and self-motivation she is now writing for the likes of LinkUp Tv. With her online book club and platform a-space.com she is channelling the teacher in her and putting education, academic and otherwise, at the forefront of all her efforts. Whether it be public speaking, event hosting or written pieces her biggest motivation is spreading knowledge and positivity.
Related Events