When logged in you can personalise your front page with information important to you, if logged out you can subscribe to your favourite categories by email. Welcome to Blacknet.
BLACK JOURNALISM UK
August 22, 2020 @ 2:00 pm

-

August 23, 2020 @ 4:00 pm
Organiser:
Ministry Of Art & Culture
Event: BLACK JOURNALISM UK
Start Date: 22 Aug 2020 2:00 pm
End Date: 23 Aug 2020 4:00 pm
Venue: Online Event

Journalism Networking Event – SPONSORED BY THE FINAL CALL NEWSPAPER
BLACK JOURNALISM UK
SPONSORORED BY THE FINAL CALL NEWSPAPER
EVENT PROGRAM –
Day 1
*The Establishment of The Final Call Newspaper – A Model for documenting black historical struggle.
*Final Call Chronological Article Review – Farrakhan's Iconic Stance for the Black Struggle
* Networking
Day 2
*Final Call Europe – The Future of Black Journalism in Europe
*Establishing the European Digital Edition
*Questions & Answers
*Networking
*EUROPEAN EDITION MEDIA OPPORTUNITIES – Calling all journalists; Calling all media students etc;
Register Your Interest!!!
FREE 3 MONTH SUBSCRIPTION TO THE FINAL CALL DIGITAL EUROPEAN EDITION
Saturday 22nd & Sunday 23rd August 2.00 – 4.00pm
£15 ONLY COVERS BOTH DAYS
This is a zoom conference call event!
Register for receiving zoom link details
Contact – 07832 904 969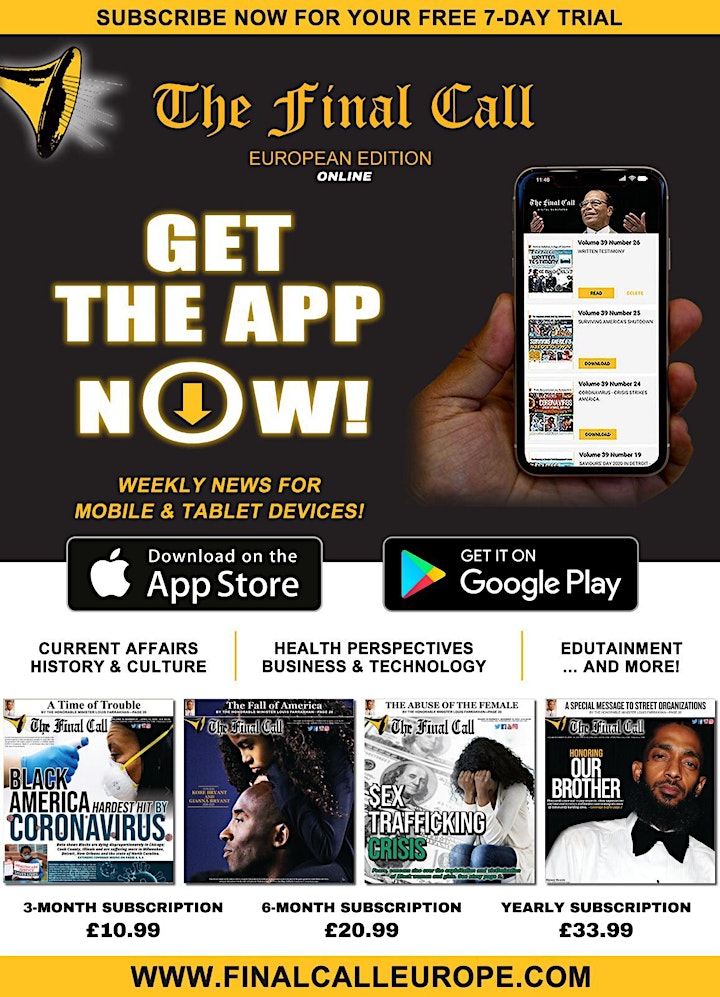 Thanks for visiting, you can use the button below to quickly share with your friends, family or colleagues