Black Tech NOLA 2020
June 29, 2020 @ 10:00 am

-

July 1, 2020 @ 6:00 pm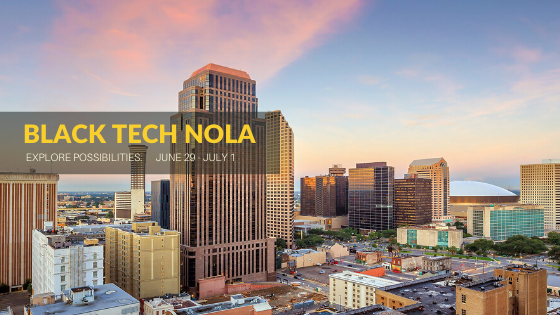 Black tech professionals and founders convene for the largest Inclusive Innovation Conference in New Orleans.
The 3rd Annual Black Tech NOLA 2020 presented by Entergy & JPMorgan Chase & Co. will be held June 29 – July 1 as a VIRTUAL CONFERENCE. The Black Tech NOLA 2020 Inclusive Innovation Conference is now a FREE EVENT and will illuminate the intersection of Tech, Art & Culture. Global Brands are invited to show their commitment to diversity, equity, inclusion, and belonging in tech by investing in our local efforts to promote a sustainable creative economy. Stay tuned for news and updates for Black Tech NOLA 2020 at nolavateblack.com.
If you are interested in being a Black Tech NOLA 2020 sponsor or partner, contact Sabrina Short, Founder and Executive Producer at sabrina@nolavateblack.com.
STATEMENT FROM ESSENCE COMMUNICATIONS, INC. ON THE 2020 ESSENCE FESTIVAL OF CULTURE
"After continued monitoring of the evolving developments in the COVID-19 global pandemic and remaining in close contact and collaboration with our partners in the City of New Orleans and State of Louisiana, we are confirming today that we will no longer move forward with the 2020 ESSENCE Festival of Culture live experience – and look forward to returning to New Orleans in 2021."
Read the full statement here. https://www.essence.com/v1festival2020/faq/
APPLY TO SPEAK!
Black Tech NOLA is requesting session proposals for the 2020 Conference in New Orleans, Louisiana on June 29th through July 1st. We are looking for leaders and professionals who are excited to share their experiences and expertise with attendees from across the country.
Descriptions should be a concise, narrative description of the content and purpose of the proposed session. Learning objectives that are action-oriented and concisely communicate what you want the audience to learn.
Presenters chosen will be promoted in media, on NOLAVATE Black social platforms, conference app, and website. Speakers do not receive compensation.
The Conference Committee reserves the right to request a modification of the proposed content, which may include asking presenters to alter their presentation or combine their presentation with similar presentations submitted from other applicants. Deadline May 25th. Speakers will be notified by June 1st.
Apply Now https://docs.google.com/forms/d/e/1FAIpQLSez7Ur6i5h5fFVsD3oDGaMJvoLz0l4xalpklLC1rGlRfD3a1g/viewform