When logged in you can personalise your front page with information important to you, if logged out you can subscribe to your favourite categories by email. Welcome to Blacknet.
BOLD, BEAUTIFUL AND BRANDED GALA NIGHT
June 2, 2018 @ 5:00 pm

-

June 3, 2018 @ 12:00 am
Event Navigation
Organiser:
Sheun Oke, CEO Loquats Consulting LTD
Event: BOLD, BEAUTIFUL AND BRANDED GALA NIGHT
Start Date: 2 Jun 2018 5:00 pm
End Date: 3 Jun 2018 12:00 am
Venue: Mayfair Executive Hall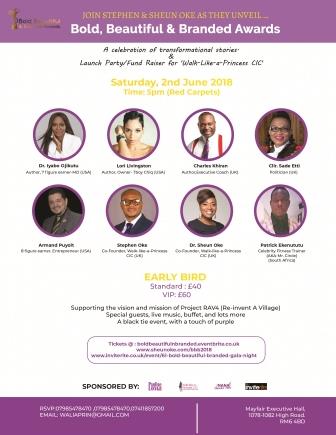 An evening of glam to celebrate the stories of personal achievements in physical, body and financial transformations.
Red carpets anchored by Chance Cessna (USA TV Host/ Miss Belair USA)
So dress to impress.
Lots of fun, comedy, music and the official launch of Walk-like-a-Princess CIC
International motivational speakers, fashion make-overs, etc.
Supporting the vision and mission of Project RAV4 (Re-invent A Village)
Special guests, live music, buffet, and lots more
A black tie event, with a touch of purple.
Note: Best dressed Award applies
Speakers
Dr. Iyabo Ojikutu (Author, 7 figure earner-MD) 
Lori Livingston (Author, Owner- Tboy Chiq)
Charles Khiran (Author,Executive Coach)
Armand Puyolt (8 figure earner, Entrepreneur)
Stephen Oke (Co-Founder, Walk-like-a-Princess CIC)
Dr. Sheun Oke(Co-Founder, Walk-like-a-Princess CIC)
A not to be missed event
Full Glam night
Thanks for visiting, you can use the button below to quickly share with your friends, family or colleagues