When logged in you can personalise your front page with information important to you, if logged out you can subscribe to your favourite categories by email. Welcome to Blacknet.
British Black Panthers
December 1, 2020 @ 7:00 pm

-

8:30 pm
Event Navigation
Organiser:
ABC A Better Community
Event: British Black Panthers
Start Date: 1 Dec 2020 7:00 pm
End Date: 1 Dec 2020 8:30 pm
Venue: Online Event

Join ABC and Deanna Lyncook, Founder of Podcast The History Hotline, to explore The British Black Power movement.
The British Black Panthers (BBP) or the British Black Panther movement (BPM) was a Black Power organisation in the United Kingdom that fought for the rights of Black people and people of colour in the UK. The movement reached its pinnacle with the 1970 Mangrove Nine Trial, the story of which has recently been made into a film by Director Steve McQueen. Join us for a panel discussion and Q&A exploring the important contribution this movement made to furthering anti racism efforts in Britain.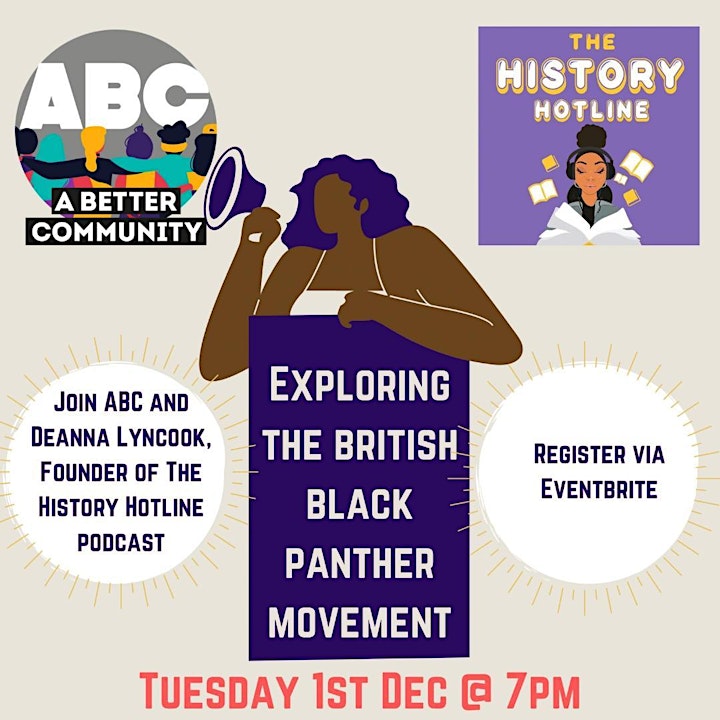 Thanks for visiting, you can use the button below to quickly share with your friends, family or colleagues
Related Events