Connect4Better (Cee4Bee) Networking Event – Africans and BME Focused
January 30, 2018 @ 6:30 pm

-

9:30 pm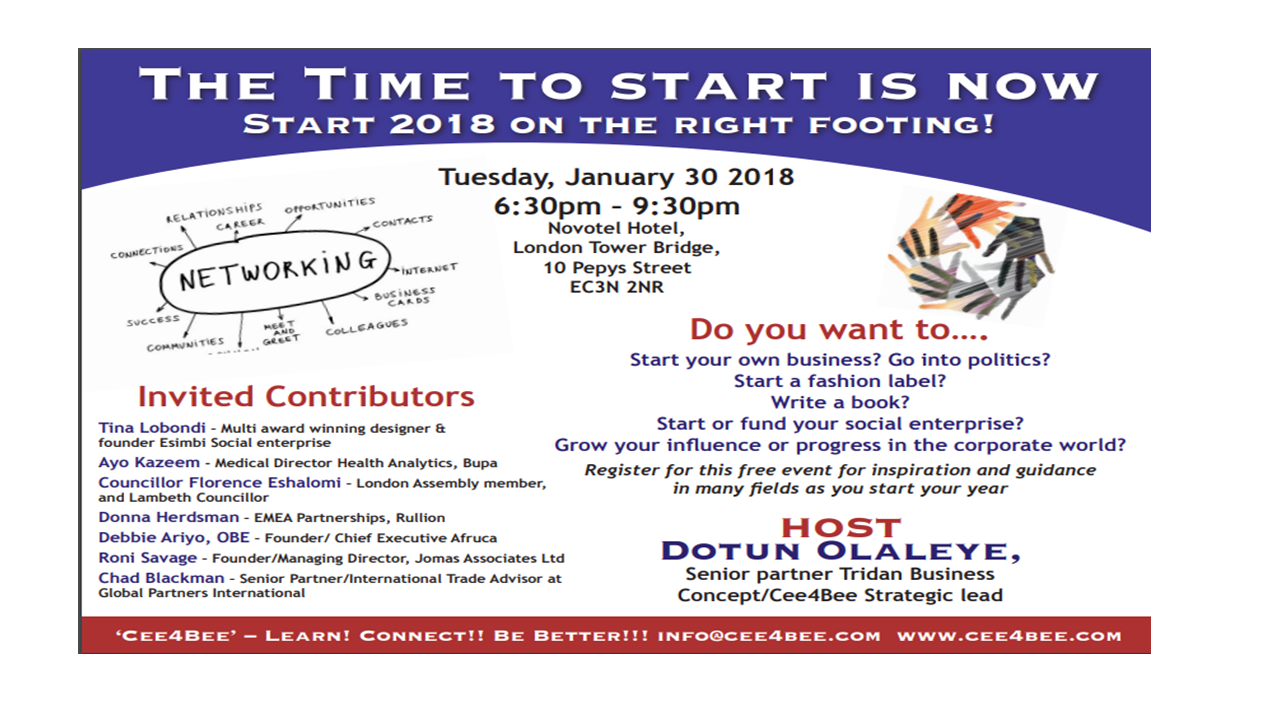 Are you thinking of starting your business, going into politics, starting a fashion label, writing a book, starting your social enterprise or growing your influence in the corporate world or just growing your network? 
Join us for our next FREE networking event where we bring together African and BME professionals and entreprenuers from different fields for the purpose interacting and connecting hopefully providing opportunities for increasing the life chances of black Africans living in UK. We create a free and safe environment to network in an evening full of inspiration, learning and sharing.
This time we will also be joined by the unlisted wonderful contributors – 
1.Tina Lobondi – Multi award winning fashion designer
2. Ayo Kazeem – Medical Director Health Analytics, Bupa
3. Florence Eshalomi – London Assembly member and Councillor. Lambeth Council
4. Donna Herdsman – Business Transformation Executive
5. Debbie Ariyo, OBE – Founder/Chief Executive Afruca
6. Roni Savage – Founder/Managing Director Jomas Associates
7. Chad Blackman – Senior Partner/Internation Rade Advisor at Global Partners International
Other key speakers,contributors and special guest will be confirmed as at when arrangement is firmed. 
Our belief is that there are some members of our African and Carribean community who will thrive and succeed should more opportunities be available to them. Opportunities such as those presented by a good reference, an internal sponsor, a mentor or a coach, work experience, shadowing, success and inspiring stories from other community members and fairly affordable development programmes etc. Where these adults take the opportunities and succeed, they will be assured of an above poverty life and the children therefore born to those families will most likely be spared of a poor life start at least.
Past events provided opportunities for some to learn and develop skills, meet new contacts who have helped with jobs, mentorship, advices and more. One of such is an example where an attendee of our October 2016 event developed new connection during the event who helped with interview preparation for a Global law firm which was successful and now starting a new job in the new year. Listen to more feedback here from past events – YouTube Page
Remember, 'the best way to find yourself, is to lose yourself in the service of others' – Mahatma Gandhi. Come and receive whilst preparing to be a giver too!
See more testimonials blogs from previous events – http://cee4bee.com/2016/03/13/it-is-beneficial-to-connect/ & 
http://www.cee4bee.com/black-africans-in-uk/connecting-that-easy-and-very-useful/.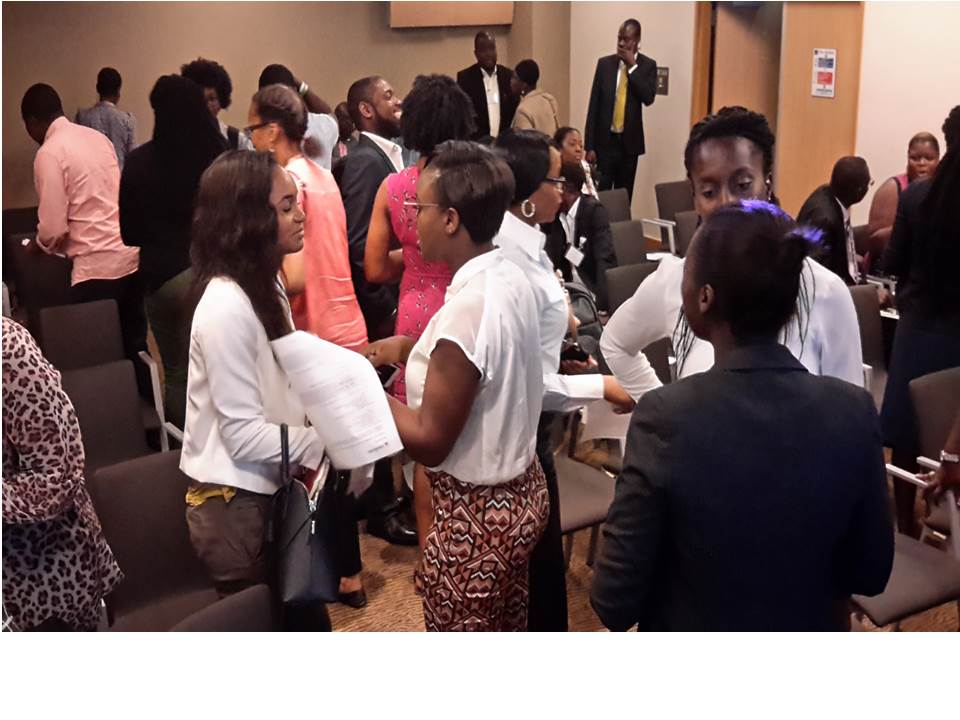 Connect4Better produces a variety of marketing and communications materials in an effort to raise awareness on our services and success stories. As such, we take photos and videos of stakeholders for usage in case studies, posters, leaflets, testimonials, newsletters, website and other outlets to promote what we do.
By registering, you give us full permissions to use the photo/video(s) and any personal information you provide to us in our marketing communications avenues. The photos/videos will not be used for any other purpose. 
Event Sponsors – Demarie Apparels 
SPONSORSHIP OPPORTUNITY AVAILABLE – please contact info@cee4bee.com