Cultured Curls Online Workshops & Live Event
October 29, 2020 @ 12:00 pm

-

5:30 pm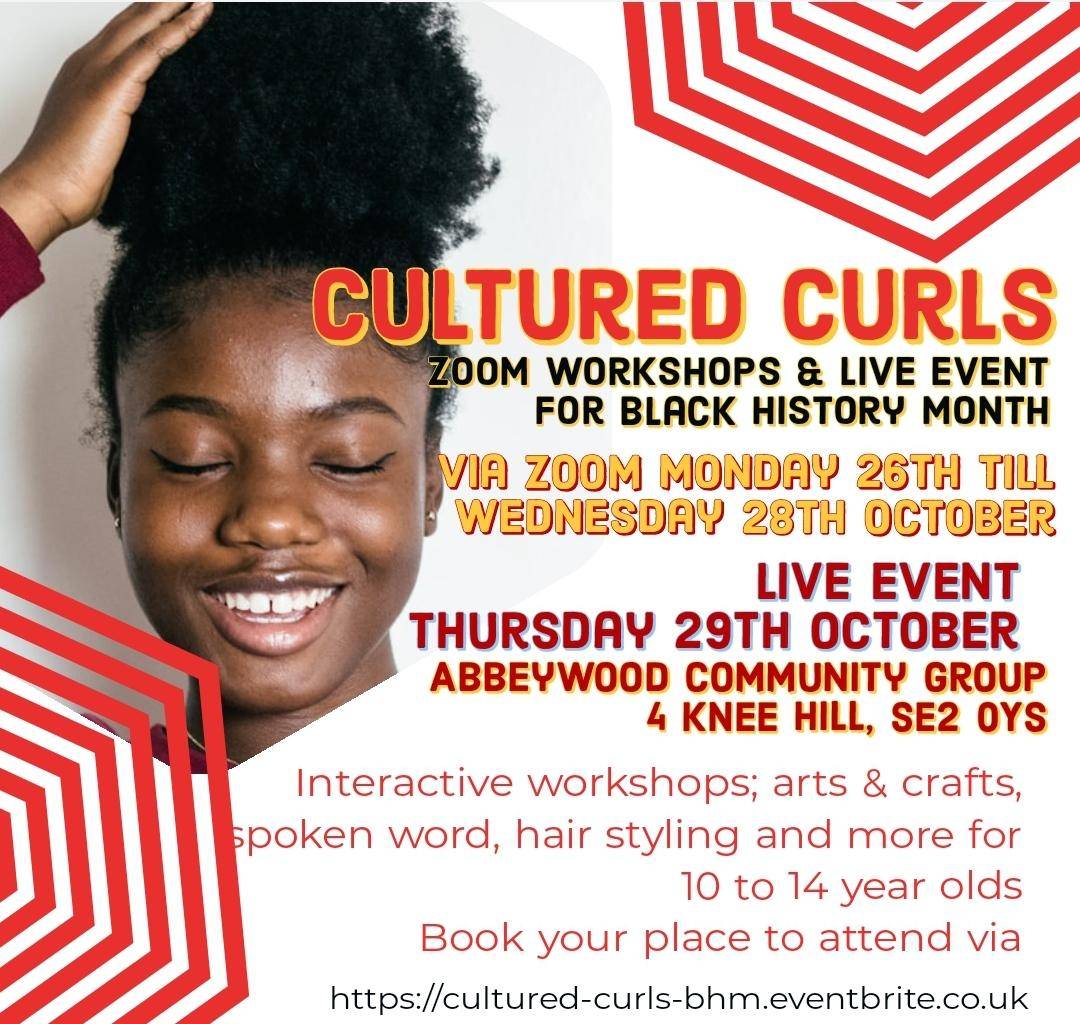 An online programme and live event celebrating natural Afro hair and skin for Black History Month with a range of science based workshops
LPF KIDDIES CLUB PRESENTS: CULTURED CURLS BLACK HISTORY MONTH EVENTS
Join us for our science engagement programme with an Afro twist
A week long Black History Month celebration culminating into a live event where you will get the opportunity to rock your natural hair with confidence whilst learning about the history of African hair styling, adornment and skin care.
Online Programme Monday 26th till Wednesday 28th October
Live Event Thursday 29th October
Online workshops details
Daily interactive workshops Monday to Wednesday during the October half term holiday which will feed into the live event taking place on Thursday 29th October.
Children will receive a free 'Cultured Curls kit' and a copy of the Cultured curls workbook in the post when they book their tickets to attend the online workshops giving them everything they will need to participate with the online workshops and activities at home.
Monday 26th October 12 till 2pm via Zoom – Skin
• What is skin and what does it do
• How to maintain and care for your skin
• Self-care and skin care routines
Tuesday 27th October 12 till 2pm via Zoom – Hair
• The history of African hair styles
• What is hair and how to care for afro hair
• How to accessories Afro hair
Wednesday 28th October 12 till 2pm via Zoom – Hair Adornment
• Cultural practices associated with hair styling an adornment
• How fabrics used for head wrapping are made
• Learn basic hair styling and head wrapping
Live Face to Face Event Details
Thursday 29th October 12 till 5.30pm
Live event for 10 to 14-year olds featuring Interactive presentations, hands on workshops, fun and engaging activities and a whole lot more
Venue: Abbey wood Community Centre
4 Knee Hill
Abbey wood
SE2 0YS
Make & Do
• Make hair butters using natural, organic ingredients
• Make hair accessories to style your hair
• Design packaging for beauty products
• Create a piece of poetry/ spoken word
• Participate in a creative writing workshop
• Learn how to style and care for your natural hair
Learn
• Learn about how beauty products are made
• Learn about the beauty, resilience and history of Afro hair
• Learn about the history and cultural practices associated with natural hair care, hair styling and ad adornment
• Learn ways to care for and style your own natural hair with ease
• and a whole lot more
ALL STAFF AND WORKSHOP FACILITORS HAVE BEEN DBS CHECKED AND ONLINE SAFETY TRAINED
DRESSCODE TO LIVE EVENT: CLEAN, AFRO HAIR
We recommend you attend with your hair clean and in a afro puff/s to enable you to participant in some of the hair care workshops but don't worry if you're unable to do this, you will still be able to participate in the workshops and we would love to see you however you choose to style your hair on the day.
LAUNCHING OUR NEW CLUB
On the day we will be launching our new project the 'cultured curls club' an weekly after school empowerment project for 10 to 14 years old girls of African and Caribbean descent who want to be in safe and nurturing environment where they can explore, express and learn about their culture, heritage and history in fun and engaging ways among their peers.
Every girl who signs up to our new project on the day will receive a goody bag
FURTHER INFORMATION:
For the online workshops
Please do not share your zoom login details with others as they are unique to you and may result in you not being able to gain access to the zoom event
Participants are expected to login on time otherwise they may not be let into the session as this can be disruptive to the group.
For the safety of all, participants will be expected to keep their cameras on at all times
All staff have been DBS check and trained in online safety
The session will be recorded and screen shoots of the session maybe be taken therefore by participating in the session you are consenting for your child to be recorded .
For the live event
Please bring a packed lunch, some snacks and a drink as it will be a full day of workshops and food will not be provided at this event
This is not a drop in style event registration is at 12 and the session ends at 5.30pm
If for any reason you are no longer able to attend the live event please contact the organiser asap via lpf-kidsclub@hotmail.co.uk
If you have not already done so please also follow us via twitter, instagram and or facebook to keep up to date with LPF Kiddies Club workshops, programmes and events
PLEASE NOTE:
Due to venue restrictions and government guidelines
• there is limited capacity on tickets to allow for social distancing at the live event
• we have put in place social distancing measures at the live event ot keep participants safe
• the venue is a covid-19 safe venue
• tickets for both the online and live event must be booked in advance
• Participants over the age of 12 will be expected to wear a face mask at all times during the live event unless they are excluded from doing so for medical reasons