EBW2020 – UK London Launch Celebration. 28.09.17
September 28, 2017 @ 5:00 pm

-

9:30 pm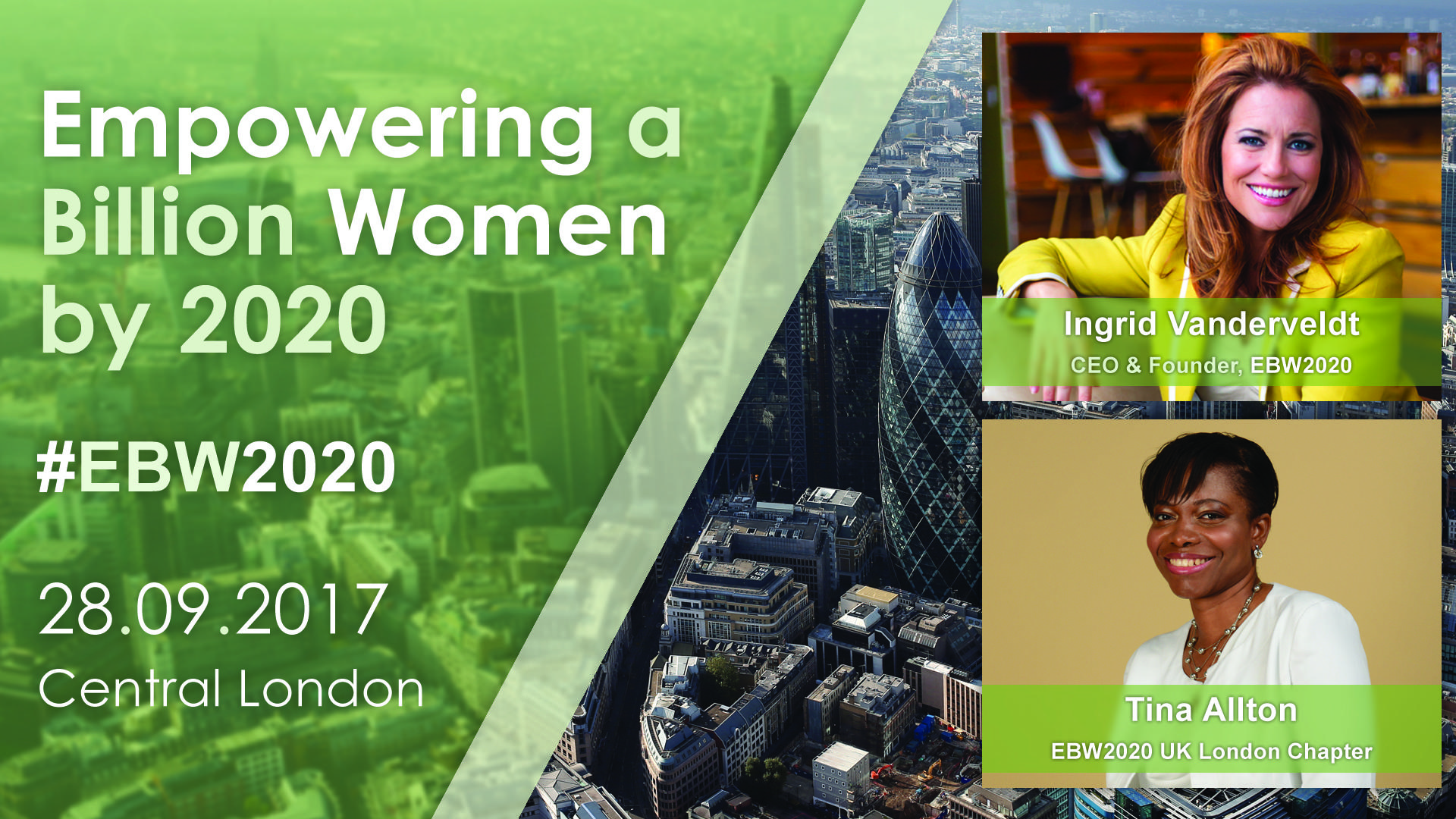 London Women Business Leaders and Entrepreneurs
JOIN US AND THE FOUNDER OF EMPOWERING A BILLION WOMEN BY 2020 AT THE UK #LONDON CHAPTER LAUNCH.
Dear #Women #Business Leader/Entrepreneur:
You are cordially invited to join us for a special launching celebration featuring the women and the mission of #EBW2020 to "Empower a Billion Women by 2020!".
It is shocking to discover that even though it is 2017, women across the globe (3.7 billion of us) still lack confidence in our ability to succeed in life. We are on a big mission to finacilaly and socio economicallly empower One Billion Women by 2020.
Welcome to EBW2020
EBW is a #community of successful women leaders and entrepreneurs dedicated to providing you with the specific tools and resources you need to start, grow, or scale your business.
Find your home and tribe of women leaders and #entrepreneurs who are helping each other to accelerate your success.
Learn make-or-break, hands-on tips to help you make better financial and business decisions and take quantum leaps in your life and business.
The "secret sauce" of our strategy is that we bring the disparate solutions of global training and mentoring, along with the financial infrastructure and certifications into one comprehensive approach created by and for women we serve.
What others are saying….
"I have been thinking about how blessed we are to have the EBW team as our role models and leaders. With a 92% small business failure rate, it is VITAL that you trust good, sound council – especially from those who have the experience and proven track record. I am very thankful… #‎IFoundMyTribe‬" – Cherie Mathews, CEO healincomfort
"In order to succeed, you have to invest in yourself." This is just ONE of the many wise words I've learned from EBW. I took a leap and followed my heart to attend a meeting. I can honestly say that the one step forward will be something that I will remember, as it has been the best experience and changed my life. To be in a room of so many women, all knowing and working towards their calling to help others and give back, was truly amazing. The collaborative efforts of the women in sharing ways to help each other, mentoring, finding solutions, and building relationships will be something I will take with me forever. It has shaped me in how I can work with others outside of this group. If you have the opportunity to be a part of this type of energy, don't miss it!" – Dr. Natalie Phillips,EBW Denver Chapter Leader.
Stella Payton shares her recent experince of EBW2020, listen here:
WHAT:  Empowering a Billion Women by 2020 – UK London Launch Celebration!
WHERE:  Central London (Final location to be confirmed)
WHEN:  Saturday, September 28, 2017
TIME:  5:00PM- 9:30PM
See you soon!
Tina, IV + all of us at EBW2020
If you haven't heard IV speak- you might enjoy her TedX talk that shares the original inspiration of starting EBW2020:  "Making The Impossible, Possible"