Fibroids Self-Care Webinar Series: Session 1 – Fibroids, Diet and Hormones
October 27, 2018 @ 4:00 pm
Event Navigation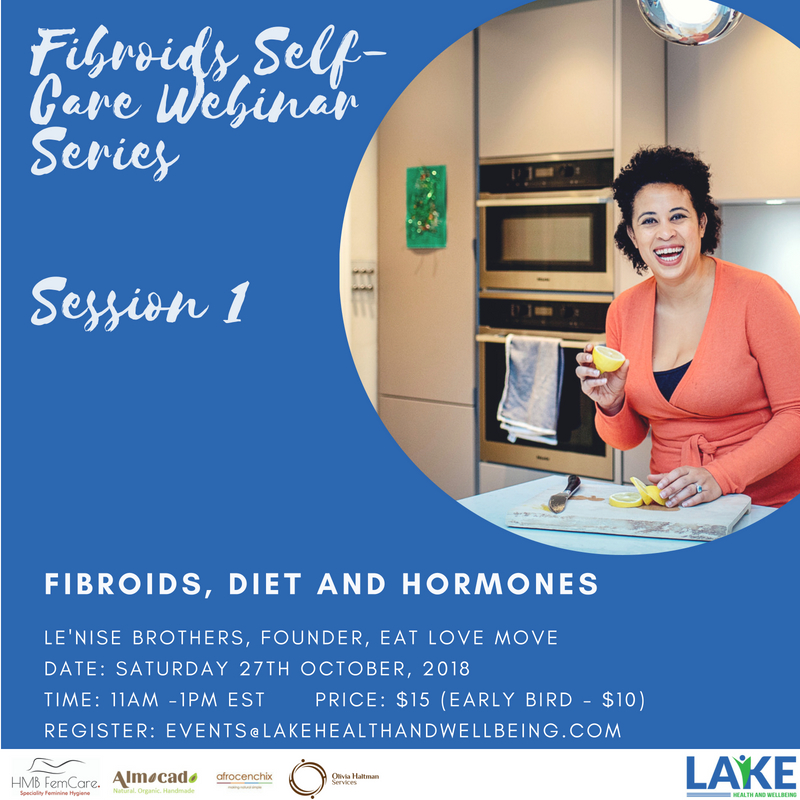 We're delighted to invite women who have been affected by fibroids to register for the first webinar in our fibroids self-care webinar series.
In this first webinar we are delighted to have Le'Nise Brothers, Registered Nutritional Therapist and the Founder of Eat Love Move, delivering a session on fibroids, diet and hormones.
In this webinar you will learn what role hormones play in the development of fibroids and how by making simple changes to your diet you may be able to improve your symptoms and thus improve your health and wellbeing.
To book your tickets or for more information, please email events@lakehealthandwellbeing.com
Other webinars in this series will include:
Session 2: Deciding on the best treatment for you, Apryll Chase, Consultant Gynaecologist, 5th December 2018
Session 3: The Importance of Exercise, Relaxation and Me-Time, Candice Bryan, Founder and CEO, Noire Wellness, 23rd February 2019
Session 4: Hair and Body Care for Women With Fibroids, Rachael and Jocelyn, Founders of Afrocenchix, April 2019
Session 5: Dealing with the Emotional Impact of Fibroids, Olivia Haltman, Founder, OH Counselling Services, June 2019
Session 6: Our  Fibroids Stories – A  Time to Share, August 2019
Special Gifts For You!
We are so delighted to have teamed up with some great brands to provide some gifts and discounts to our webinar attendees.
Firstly, the first 10 people who register to attend our webinar in October will be entered into a giveaway and one lucky person will win a copy of the doctor-approved book "Flow Fighter: How I Kicked my Fibroids and Heavy Bleeding to the Curb" by Holly Bridges.
We're also delighted to have formed a partnership with OH Services who will be launching their 'Emotional Impact of Fibroids' online course in November 2018.  The first 10 people to register for our webinar on 27th October 2018 can claim a £5 discount on the cost of the OH Services course.
There is more!  We're happy to say that all registered attendees will be eligible for a 20% discount when they order hair or body products from  Almocado and will also receive a discount (to be confirmed) from Afrocenchix.
Related Events