FREE Event SHood Late Night Evening UK Talk Show | Black Sisters Talk Show
September 18, 2020 @ 8:30 pm

-

9:30 pm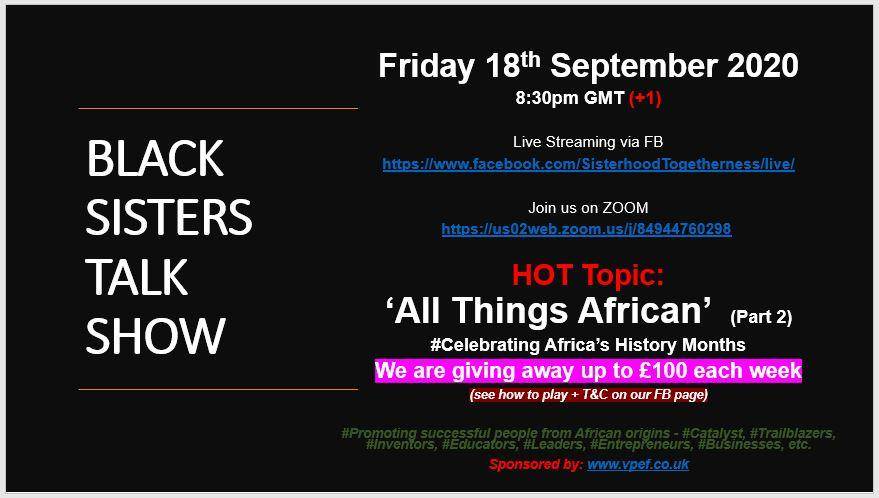 The Sisterhood will be celebrating Africa's History Months and All Things Africa, in our upcoming talk show. Join our free event.
Hot Topic: All Things African' (Part 2)
#Celebrating Africa's History Months
#promoting successful people from African origin – #Catalyst, #Trailblazers, #Inventors, #Educators, #Leaders, #Entrepreneurs, #Businesses, etc
Join us live via FB and Zoom
September 18th 2020 (8:30 to 9:30pm GMT +1) (then after every 2 weeks)
About Us
The SHoods is a group of black businesswomen whose aim is to address critical issues concerning the black race and share empowering and successful stories taking place in our communities. The show will enable SHood women to share their compelling views about their lives to help shape our global communities. We want to write our history – we tell it, and we write it.
We aim to empower, develop, inspire, mentor, educate and enrich our community through this talk show.
The show will enable panellist of women with compelling views who are willing to share their life's experiences to help shape our global communities.
https://www.youtube.com/channel/UCrM6r0p3CL3LPXDWHkH561A
https://www.facebook.com/SisterhoodTogetherness/
https://www.facebook.com/groups/295430654488713/