New BBC series: Transforming much-loved but unused items into something new
September 19, 2020 @ 8:00 am

-

September 30, 2020 @ 5:00 pm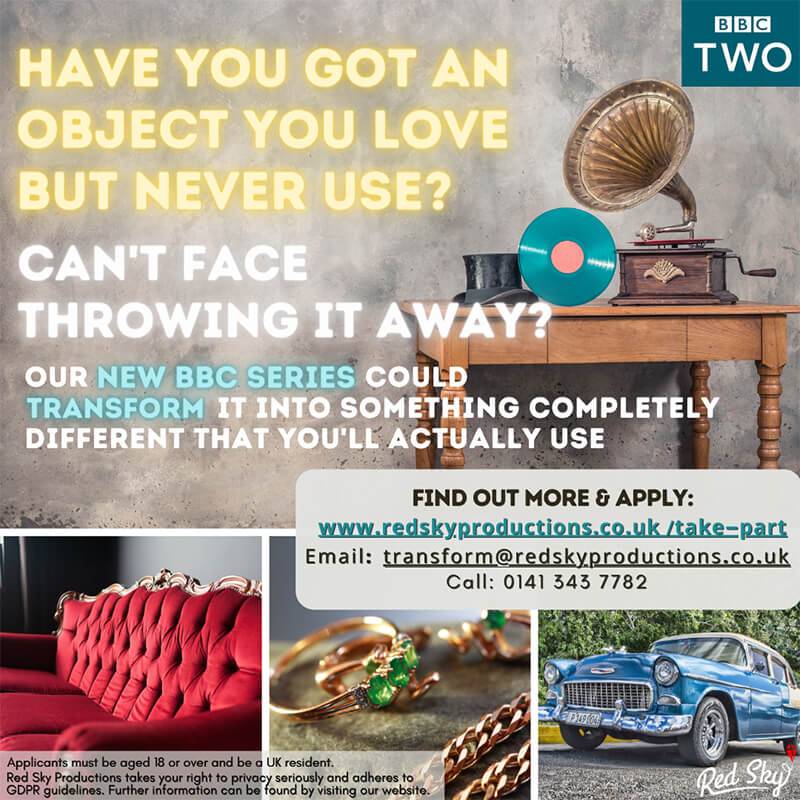 Do you have a much-loved item that you never use?
Would you like to hand it over to our expert craftspeople who will work their magic and turn it into something that you'll actually use and enjoy?
The series will see a team of expert craftspeople take your much-loved but unused items and transform them into something completely different; giving them a new lease of life and a real purpose.
We're talking about those items that have stayed with you for years. It could be a car, a grand piano, family photos of generations past, the skateboards you used to ride as kid or something else entirely.  Maybe you bought them at a significant point in your life, they remind you of good times, or maybe they were passed down by a family member. It's come with you on every house move but sits at the back of the cupboard gathering dust.  Yet you can't bear the thought of throwing it out! Maybe you've even forgotten about it… until now.
Our expert craftspeople are ready and waiting to take on your much-loved items and turn them into something you'll actually use and enjoy whilst still celebrating the memories and stories attached to it.
No matter how big or small, if you have an item that you'd like us to transform into something completely new, we'd love to hear from you today.
TO APPLY:
Get in touch telling us:
– Your name, age, location and contact number
– Some info about your item; what it is, why it's important to you and why you want to transform it
– Please also send photos of your item
Email : transform@redskyproductions.co.uk
Phone: 0141 343 7782
Applicants must be aged 18 or over and be a UK resident.