GOSPEL MIC NIGHT 2017
November 25, 2017 @ 6:00 pm

-

10:30 pm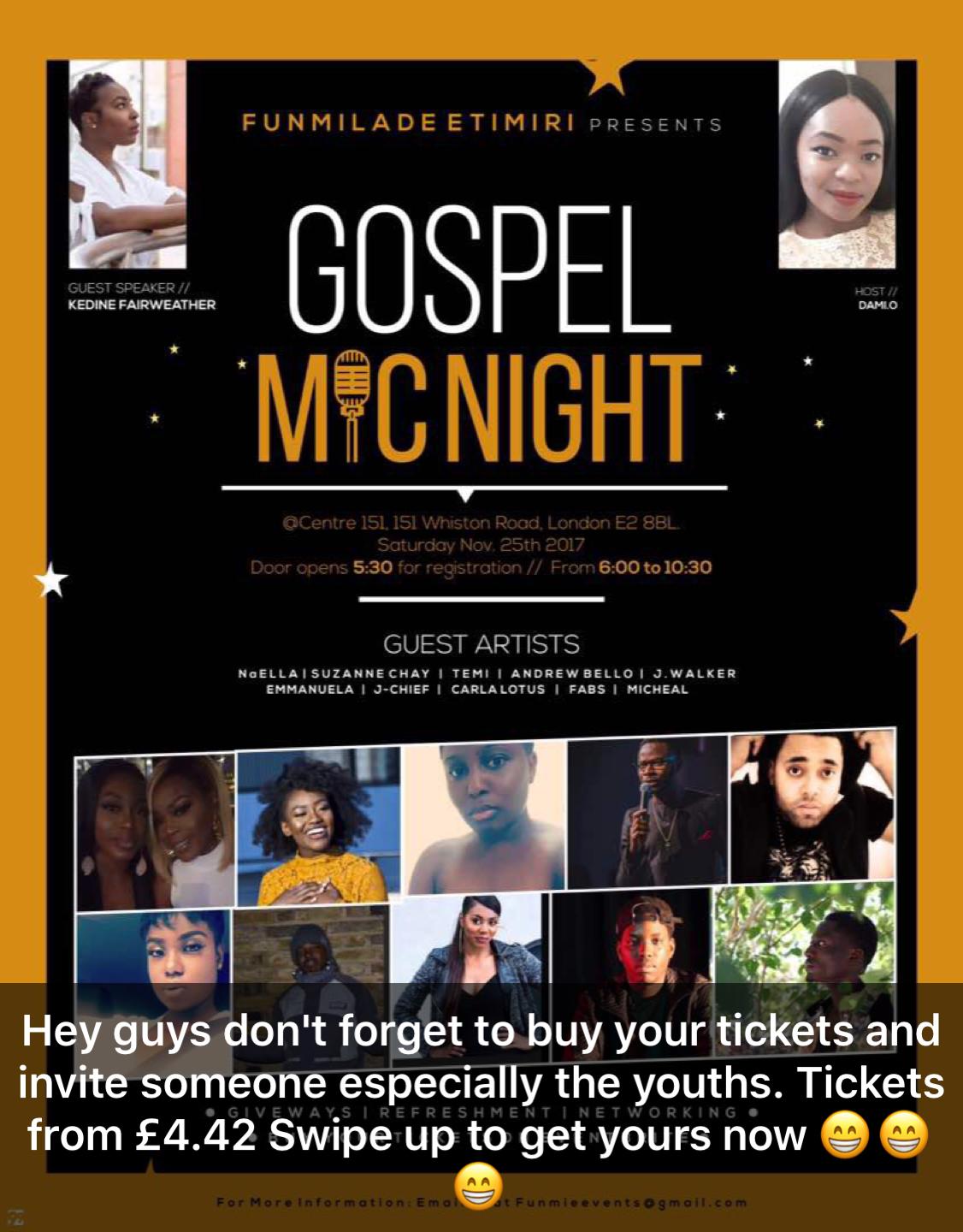 GOSPEL MIC NIGHT 2017 warmly welcomes  you to its first ever event to enjoy a night of Live Gospel Music and inspriational words , this event is designed to inspire, uplift and encourage all ages! 
' A man's gift makes room for him, and brings him before great men'
                                                                                            – Proverbs 18:16
Funmilade Etimiri welcomes all to her first annual gospel mic night event taking place on Saturday 25th November 2017. The event hosted by radio produce and presenter Dami O, invites a number of gospel artists for the night to showcase their talents, inspire the youth and reach out to a wide range of people through gospel music. Gospel Mic Night 2017 aims to bring people together and to inspire and invest in the younger generation. Guest artists include – Andrew Bello, Fabz, NaElla, J- Chief, J. Walker of TLD, Suzanne Chay and many more! This event will be packed with interactive sessions, networking, ice-breaker games, raffle prizes, giveaways to be won, free food and more.
Gospel Mic Night 2017 is also the beginning of a very BIG vision.  From next year there will be regular open mic nights hosted all over London.  The team are looking for young people, aged 14 and upwards to come on board, reasons being that sometimes a person only needs an opportunity given to them in order to change their life.  Funmi has the desire to invest time with the youth by providing them with the opportunity to get involved in different departments of running events, training will be provided, so there is no experience required. This is beneficial for the youth because, not only does it encourage the youth to stay out of trouble but, it will also allow them to gain experience and develop skills, socialize, build their network and conquer factors such as, lack of confidence and fear which may not allow them to use their talents.  Examples of different departments that the young people will have the opportunity to work with include; photography, videography, admin, finance, stage management, sound engineering, ushering, promotion & social media, graphic design, playing in the live band and more
Guest motivational speaker Kedine Fairweather, will be talking about the topic 'deleting distraction, maintaining focus' which focuses on walking in purpose and making sure to not allow surrounding distractions to deter us from fulfilling God's will for our lives.
 As well as having live music, this event aims to fulfil its goal of bringing people together by providing a platform for business owners to promote their businesses. Businesses such as Maya Makes Boutique, Sola Grace, EmpowerCo, Jumocakes, Justbcos, Knots, SharsCakery, Heaven's Touch Hair Care, LollyCommsPhotography and more are all businesses that will kindly be sponsoring the event for the night. Funmi Etimiri and her team are very excited for this event and the prospects for the future vision.
This event is also being sponsored by The Body Shop, Nandos, TIGER and more
'We cannot always build the future for our youth, but we can build our youth for the future'
                                                                                                                                           -Franklin D. Roosevelt
hope to see you there 
Funmi