GROWN & SEXY – Boxing Day Party
December 26, 2017 @ 10:00 pm

-

December 27, 2017 @ 4:00 am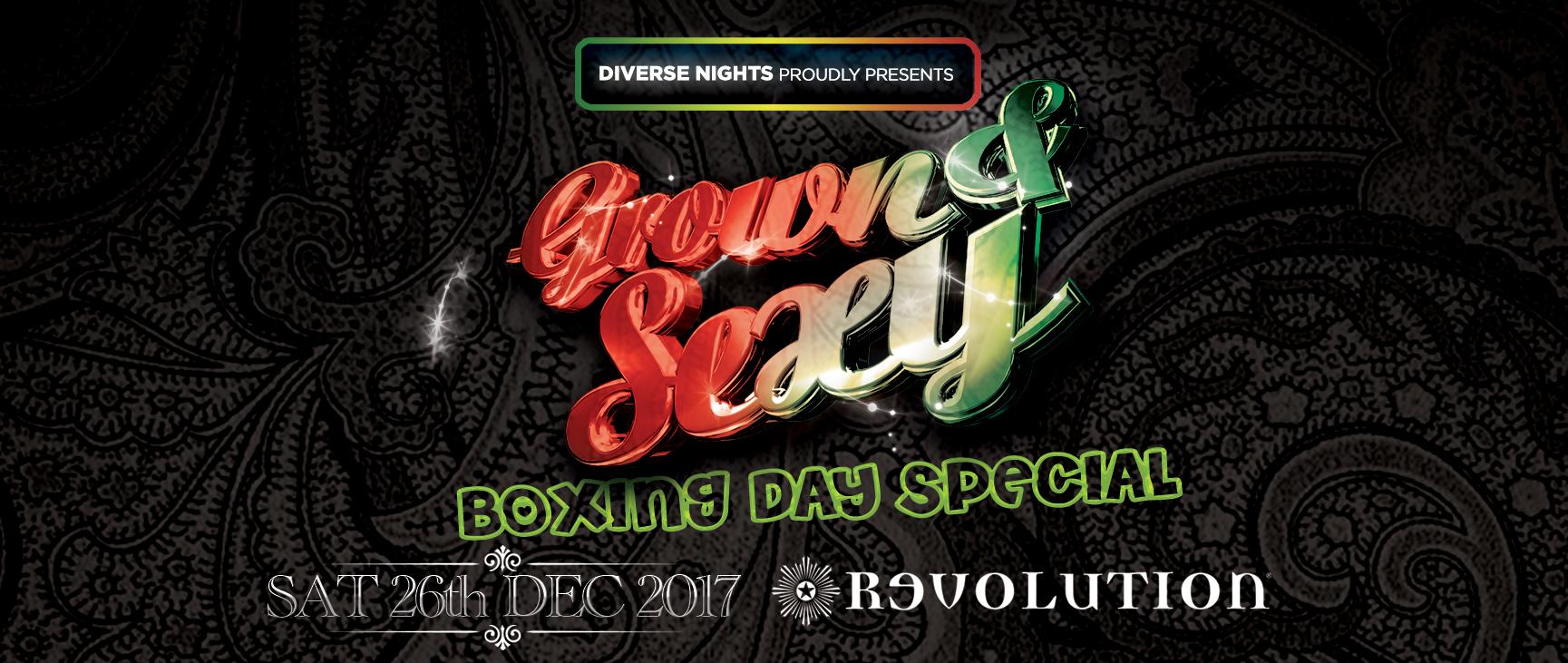 Mix CDs • Event trailer • Event pics • Birthday booking trailer • Birthday booking pics 
Ticket only event. No ticket no entry.
Calling all raving connoisseurs who like to dress to impress, drink the finest alcohol, socialise in luxurious venues and dance the night away to sensational vibes. If you have been lucky enough to experience Grown & Sexy then expect no less as we turn the sensational Revolution America Square into a playground of atmospheric entertainment.
Entertainers playing the very best in; R&B, Hip-Hop, Dancehall, Bashment, Afrobeats, Soca, Reggae, House, Garage, 90s/00s Walkman Classics & Slow Jams will be
• BIG BUSINESS
• LOVE CONNEXION
• PURE VIBES
• GODFATHER
• GALLISTAIR
• MADFINGERS
ADMISSION & DRESS CODE:
Valid government I.D essential: Last entry 1:30am
High society. Absolutely no Denim, Jeans, Hats, Hoods, Sportswear, Designer Trainers, Pradas, Guccis, Balenciaga, LVs, Vans, Converse, Sliders etc. Hard shoes only.
BIRTHDAY PARTY & TABLE BOOKINGS:
It's said we have the best party packages in London so if you're celebrating anything between the 19th Dec • 31st Dec then look no further!
Celebrate in STYLE with our exclusive packages which include ☆ V.I.P Table: Booth: Personalised Cake: Champagne: Wine: Spirits: Nibbles: Sweets: Chocolates: Professional Photography: Disposable Cameras: Personal Hosts: Helium: Balloons: Decorations: Card: Poppers: Sparklers
Packages can be tailored to your own bespoke needs. To party in style contact JUNIOR on 07572 433 672
FOR INFO & TICKETS PLEASE CALL, TEXT OR WHATSAPP:
07939296977 – 07572433672 – @DiverseNights