Hidden Sussex book launch – Brighton
June 15, 2019 @ 6:00 pm

-

9:00 pm
Event Navigation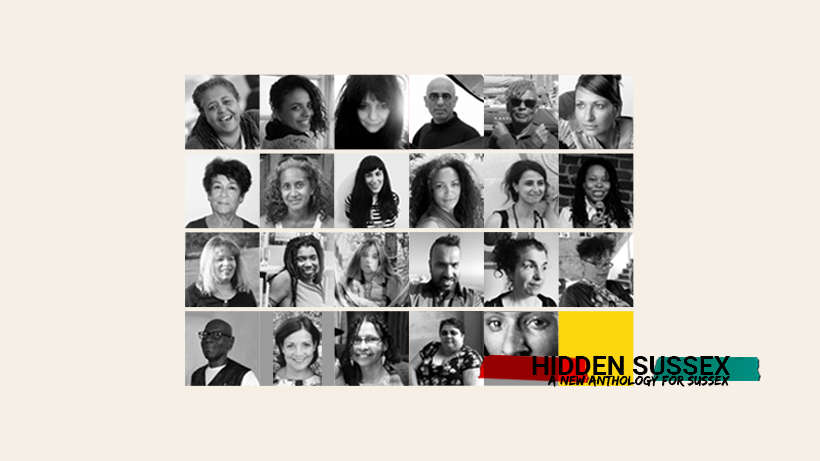 Join our first book launch for Hidden Sussex, a new anthology for Sussex. 
The event will feature readings, music, drinks, books for sale & of course good company. 
Confirmed authors reading includes: Dulani Kulasinghe, Josephine Hall, Zaid S Sethi, Sheila Auguste, Alinah, Suchitra Chatterjee, Hayat N Shehab, Lisa Climie, Georgina Parke, Sally-Claire Fadelle, Priti Barua.  
Writing Our Legacy is thrilled to announce its first print and digital publication, an anthology about the Sussex experience from the Black and ethnic minority perspective. Our aim is to reinvent Sussex Day, which is celebrated in Sussex on 16 June. 
The book features 23 authors and will also include a newly commissioned map by Josef Cabey and alternative Sussex Day flag, created in the Afro-Caribbean stylings by Jill Carpin, plus a new directory of places to go in Sussex – all from the BAME perspective. 
Tickets and other booking information
General admission £5 + booking fee, Concession £3 + booking fee. Tickets will also be available on the door. 
Attendees will also get a discount on book purchases £7 (normally £10). 
Pay bar. 
For more information, please see our website. 
Venue Capacity: 90. Fully accessible. 
About the Hidden Sussex anthology
The Hidden Sussex anthology attempts to reimagine the Sussex landscape, told from the vision of Black, Asian and ethnic minority perspective, through poetry, fiction, autobiography, memoir, short story, and flash fiction. 
The anthology tells stories of many firsts – of first trips to Afro-Caribbean hairdressers, first sexual awakenings, first visit to the Chattri Memorial. The writing also talks about middles and ends – raising children, family and solitary pursuits, deaths of family and friends. 
Readers are transported to notable places of interest in Sussex such as Cuckmere Haven and Brighton Pavilion, and also elsewhere – to Pakistan, India, Iran. Some authors deal with pressing issues of contemporary Britain, including Brexit and the Windrush scandal, while other cast their eye to historical times and even occupy spaces within the natural environment.
Contributors: Georgina Aboud, Jenny Arach, Sheila Auguste, Alinah Azadeh, Priti Barua, Bebb Burchell, Josef Cabey, Joyoti Grech Cato, Suchitra Chatterjee, Lisa Climie, Farah Edwards, Sally-Claire Fadelle, Josephine Hall, Jasmine Harris, Maggie Harris, L. Oluwafemi Hughes-Jonas, Dulani Kulasinghe, Georgina Parke, Annie Richardson, Zaid S Sethi, Hayat Shehab, Sonny Singh and Nina Thaddeus.
Editors: Umi Sinha, Colin Grant, Dean Atta
Working in partnership with Word Factory, New Writing South, Creative Futures, Diversity Lewes, Diverse Crawley, Crawley WORDfest, African Night Fever, Brighton & Hove Black History and Shoreham Wordfest. 
The anthology project is supported by Arts Council England, Brighton & Hove City Council, East Sussex Arts Partnership and Devonshire West Big Local. 
The anthology is part of Diverse Sussex, a platform and provocation to champion a shared sense of heritage, diversity & multiculturalism around the BME/BAME experience in East and West Sussex including Brighton.
Published: 1 June 2019
Paperback and digital available