Leeds Carnival 2018
August 24, 2018

-

August 27, 2018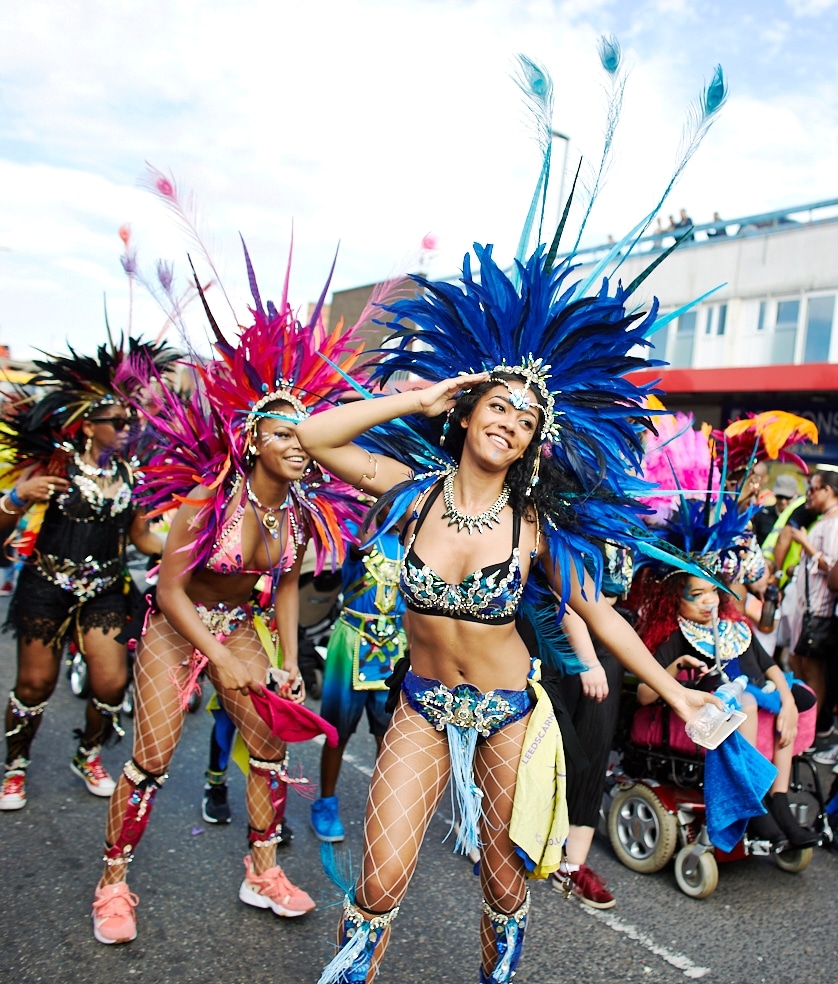 With jaw dropping costumes from across the UK and the perfect recipe of tastes, sights and sounds, Leeds West Indian Carnival is the oldest and one of the most adored Caribbean carnivals in Europe.
In 2018 we're all set to build on an unforgettable 50th anniversary in 2017. This year we'll celebrate 51 years with the usual frenzy of preparation culminating in one of the North of England's biggest events on the last Monday in August.
We'll keep you posted with exciting plans for Leeds Carnival 2018 or contact us for more information. Until then here's a taste of what to expect;
FRIDAY 24TH AUGUST 2018
LEEDS CARNIVAL KING & QUEEN SHOW
Majestic creations vie for the Leeds Carnival King and Queen 2018 titles. With stellar entertainment,  foot tapping steel pan melodies and incredible costume designs from across the UK, this is a Leeds Carnival must-do. Suitable from age 16 with parental guidance.
SATURDAY 25TH AUGUST 2018
SOCA MONARCH SHOW
A night of authentic Caribbean music and rhymes as contestants pit their songs, lyrical skills and razor sharp wit for the Soca Monarch 2018 crown. Suitable for age 18+
Venue: Leeds West Indian Centre
BANK HOLIDAY MONDAY 27TH AUGUST 2018
6:30AM – 8:30AM
J'OUVERT MORNING
Start Carnival Day the Caribbean way! This traditional early morning soca music jam is the perfect warm-up for the parade later on in the day. Originating from the French for 'day open' or 'opening day', J'Ouvert is also known as 'pyjama jamming' so it's perfect for your P.J'S, nighties, onesies and fancy dress. Whatever you choose, don't forget to set your alarm clock!
Route: Departing from the West Indian Centre on Laycock Place, turn right onto Savile Mount; left onto Chapeltown Road; right onto Harehills Avenue; right again along Spencer Place before turning right onto Louis Street, right again onto Savile Mount to return to the West Indian Centre.
BANK HOLIDAY MONDAY 27TH AUGUST 2018
THE BIG LEEDS CARNIVAL PARADE 2018
Once again the Leeds Carnival parade is all set to bring the streets of Leeds to life with an explosion of colour, amazing costumes, addictive rhythms and an unrivalled welcoming atmosphere. The Carnival King, Queen, Prince and Princess costumes are joined by unbelievable troupes with sound systems and steel pans on floats pumping the infectious sounds of the Caribbean. In Potternewton Park there's music, and global cuisine – including the Carnival 'must taste' Jerk Chicken – plus arts, crafts and fun fair rides. The DJ stage at the back of the park is the spot. This really is fun for all the family. Top tip? Come early, pick a good spot and get happy!
Venue: Potternewton Park, Harehills Avenue Leeds 7
Time: Parade leaves at 2-00pm returning at around 5-00pm for judging of costumes.
Admission: FREE
Click here for more information