Special Offer on Black Soap Gift Set
August 24, 2018 @ 8:00 am

-

August 28, 2018 @ 5:00 pm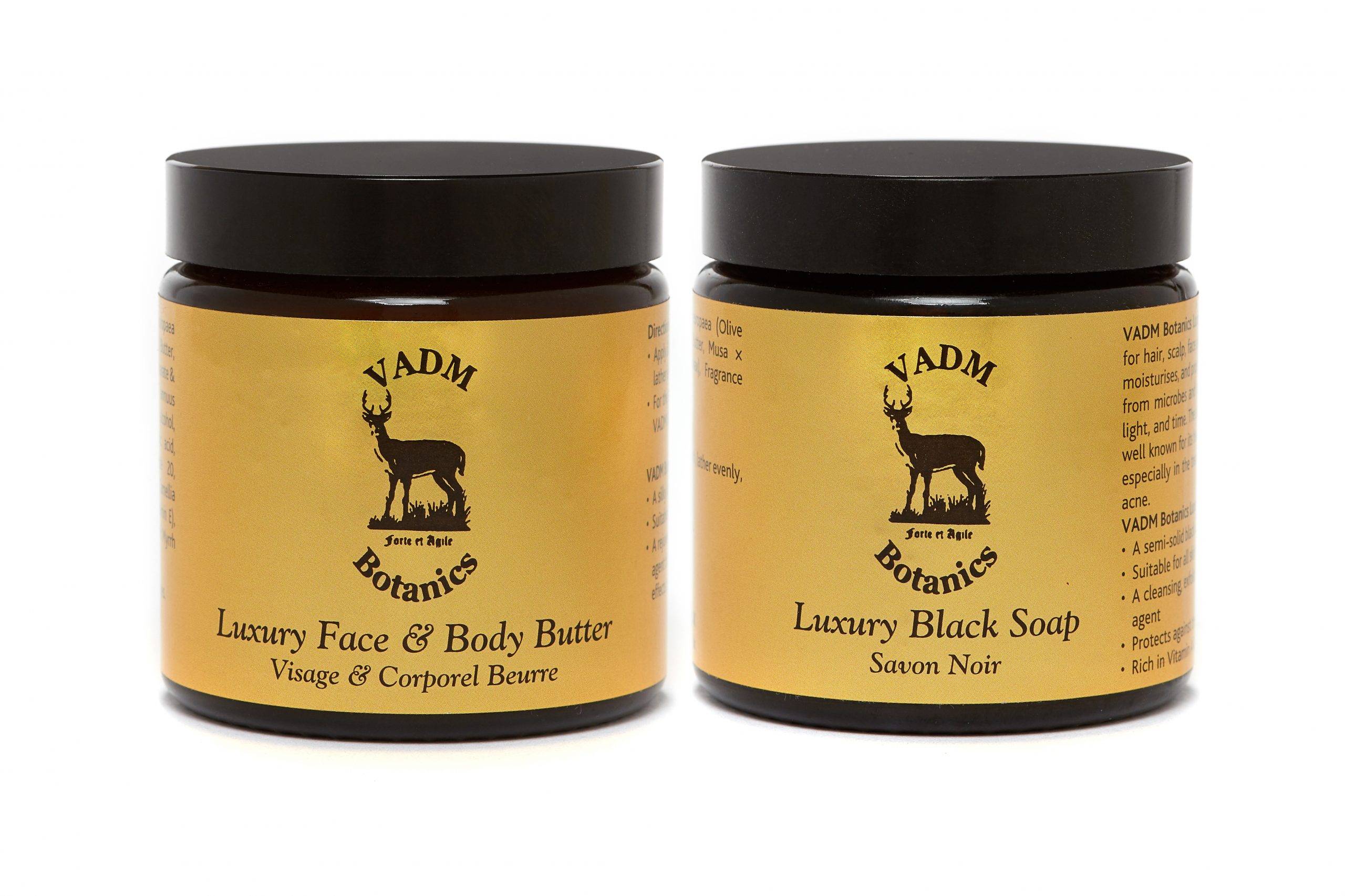 VADM Botanics Luxury Black Soap and Face and Body Butter are made from a special blend of natural sustainably-sourced ingredients specially formulated for the purpose cleansing, nourishing, moisturising, and protecting all types of skin, scalp and hair from microbes and the aging effects the weather, UV light, and time. The soap is rich in vitamins A and E and well known for their healing or dermatological properties; especially in the treatment of dermatitis, eczema and acne. Excellent manufacturing practice ensures that this product is safe to use. Safety certificates are available to be seen on request.

8 Ways VADM Botanics Luxury Black Soap & Body Butter benefits the skin:
Protects Against Photo Aging
Antioxidants in black soap protect the skin from free radical damage, which is a cause of premature skin aging, wrinkles and facial lines.
Improves Skin Tone
Black soap firms and tones skin and improve skin texture, for more supple and glowing skin.
Fades Skin Discolorations
Black soap helps even out discolorations.
Reduces Inflammation and Skin Irritations
Black soap helps reduce inflammation and skin irritations. It is soothing on dry and irritated skin, relieving dry patches, rashes and red areas.
Helps to Heal Problem Skin
It eases the symptoms of skin conditions like acne. Users have said that black soap helps lessen, treat and clear acne gets rid of blackheads, psoriasis and eczema. Has Deep Cleansing Action. Black soap has antibacterial and anti-fungal properties and is great for deep pore cleansing. It also is effective at removing makeup because of the oils and butters.
It Alleviates Razor Bumps
It is often used by men during shaving because of the high shea butter content which protects the skin.
It's an Effective Exfoliant.                                                                                                                       The ashes in black soap provide exfoliating properties to remove dead skin cells and thereby improve fine lines, soften and rejuvenate rough skin.
To order your Special Offer Valentine's Day Gift Set click here
Related Events