MALTA 2019 THE JEWEL OF THE MEDITERRANEAN
September 16, 2019

-

September 23, 2019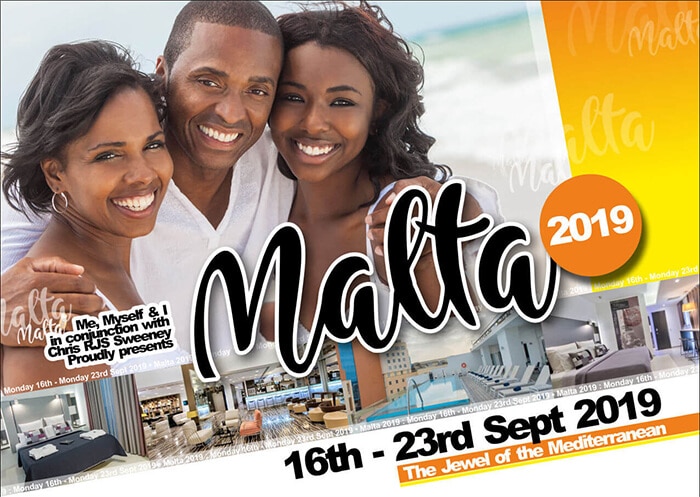 MALTA 2019
THE JEWEL OF THE MEDITERRANEAN
16th – 23rd SEPT 2019
7 FUN THEMED DAYS IN THE HOT SUN.
CHIC AND CLASSY BOUTIQUE HOTEL IN TRENDY TOURIST NIGHT SPOT ST. JULIAN'S.
ACCOMMODATION INCLUSIVE OF BREAKFAST FROM £445pp – £522pp.
PRICES BASED ON 2 – 3 ADULT SHARING.
YOU CAN BOOK ACCOMMODATION VIA PROMOTERS & SM WORLD TRAVEL (0203 815 7945),
INFO@SMWORLDTRAVELUK.CO.UK
 OR MAKE YOUR OWN ARRANGEMENTS.
EXCLUSIVE AND PRESTIGIOUS NIGHT CLUBS.
TOP CLASS DJ'S AND SOUNDS
SWEET VIBZ FR 5TH AVENUE, FRANKIE II SUITE & FRANKY BEVERLEY, SPECIAL TOUCH, MISTRI, ROY MEDALLION, EQUATION ROADSHOW, NEW WINNER ROADSHOW.
ENTERTAINMENT PACKAGE FROM £150pp EARLY BIRD OFFER.
ACCOMMODATION AND ENTERTAINMENT WRISTBANDS CAN PURCHASE BY PAYMENT PLAN.
THIS HOLIDAY IS FULLY ABTA & ATOL BONDED.
FOR MORE INFO CALL:
SANDRA 07958 709 170
BRIAN 07950 412 035
CHRIS RJS SWEENEY 07940 520 510
PLEASE DON'T KEEP THIS TO YOURSELF AND FORWARD TO ANYONE LOOKING FOR A CLASSY ONE WEEK HOLIDAY.
Related Events