Midnight Run with Inua Ellams
October 7, 2017 @ 6:00 pm

-

October 8, 2017 @ 12:00 am
Event Navigation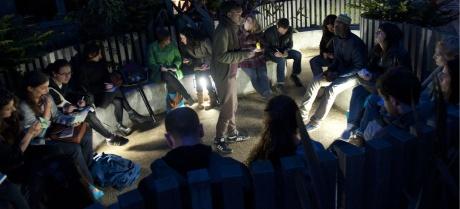 Midnight Run with Inua Ellams
Saturday 7 October, 6.00pm to Midnight
£10
The Midnight Run is a walking, arts-filled, night-time cultural journey through urban spaces. It gathers strangers and local artists/activists to explore, play and create whilst the city sleeps. There have been events in Paris, Rome, Berlin, Barcelona, Perth, Aukland to name a few.
The Midnight Run is also a containment for conversation and much has been said about the changing face of Brixton, given its rich and complex history. Commemorating 30 Years of Black History Month, Join Kelly Foster (certified London tour guide and Brixton Historian) in exploring, excavating and discussing aspects of the area, from the Windrush Generation to Michael Jordan's visit in 1985, to the riots. Along the route, Inua Ellams (Brixton resident and Founder of the Midnight Run) will lead imaginative creative exercises on capturing the exhilarating experience in verse.
As always, in typical Midnight Run fashion, expect the unexpected and come to have fun.
In Partnership with Oval House and Black Cultural Archives.
@themidnightrun 
themnr.com

The Midnight Run 
Cause we can't see stars for fumes
we turn to smashed glass, believing
shards shine like constellations do.

Watch the Midnight Run film
Not all those who wander are lost 
Discover After Dar
Continue to make a difference and become a BCA Friend from as little as £2.50 per month. To find out more, visit bcaheritage.org.uk/friends
Join our mailing list for the latest updates, exhibitions, and events at Black Cultural Archives.