OAN Business Forum: Accelerating Small Business Growth in the UK
June 5, 2020 @ 6:00 pm

-

7:30 pm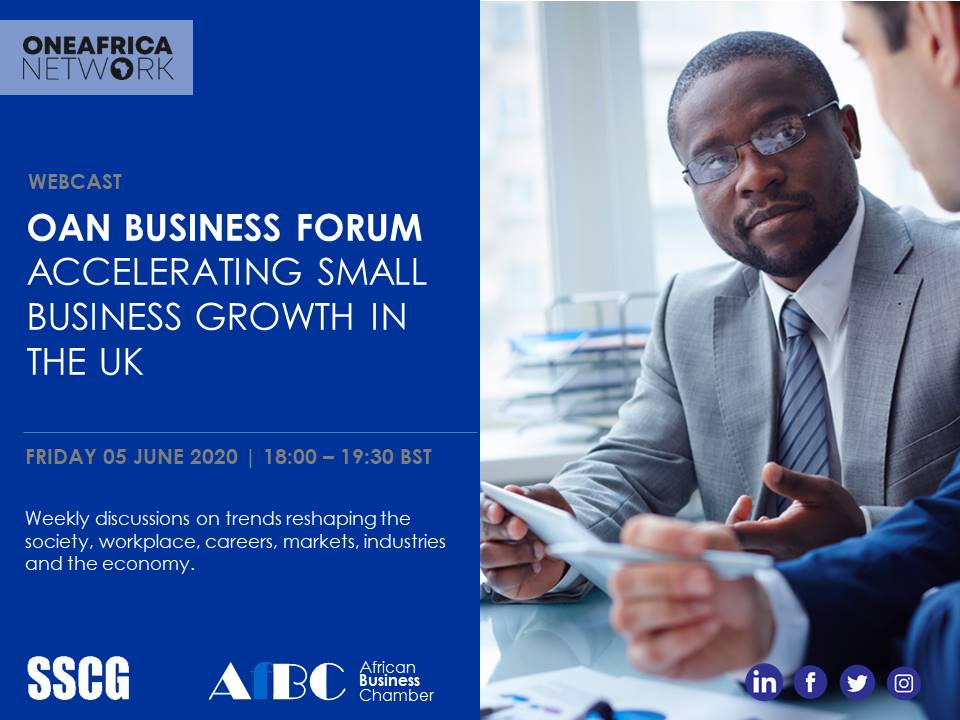 COVID-19 outbreak is first and foremost a human tragedy, affecting millions of people and communities. Having major impact on the global economy, businesses and people. It's more important than ever to build agility and resilience skills to effectively navigate current crisis for recovery and stay ahead of the curve. Our response to the outside world and crisis will define people's ability to adapt and survive.
Join One Africa Network (OAN) Business Forum live discussion webcast event on Accelerating Small Business Growth in the UK on Friday 05 June 2020 at 18:00 BST to learn and hear from our panel of experts and leaders. Connect and hear from other business leaders and professionals across the industries and regions on their experience and best practices. Gain insights, market updates and better understanding on some of the positives and opportunities arising from current rapidly evolving global economy, key priorities and where to direct the right focus.
TOPICS:
How the crisis has disrupted the economy, industries and businesses

Business in transition: Defining new strategic goals, purpose and sources of values

Key recipes for building better and high growth businesses post COVID-19

Turning disruption into transformation: Technology, Gig and Remote Economy

Establishing digital enabled and lean business processes for efficiency

Enhancing customer experience and engagement rapidly changing markets and expectations.

Unlocking growth out of disruption: Where new opportunities likely to come from
ABOUT ONE AFRICA NETWORK
The leading network for African entrepreneurs, investors, businesses, leaders and professionals in the UK. Committed to advancing entrepreneurship, innovation, excellence, inclusiveness and sustainable economic growth.
One Africa Network is hosting a new series of virtual events, as we continue on our mission of informing, inspiring, and connecting audiences around the world during these uncertain times.
We remain committed to bringing you objective, solutions-based discussions and opportunities for connection. Follow our discussions and tweet us @OneAfricaNetwork using the hashtags #OneAfricaNetwork
Visit www.oneafrica-network.com for more details