OAN Webcast: COVID-19 – Future Economic Implications and Path to Recovery
May 1, 2020 @ 6:00 pm

-

7:30 pm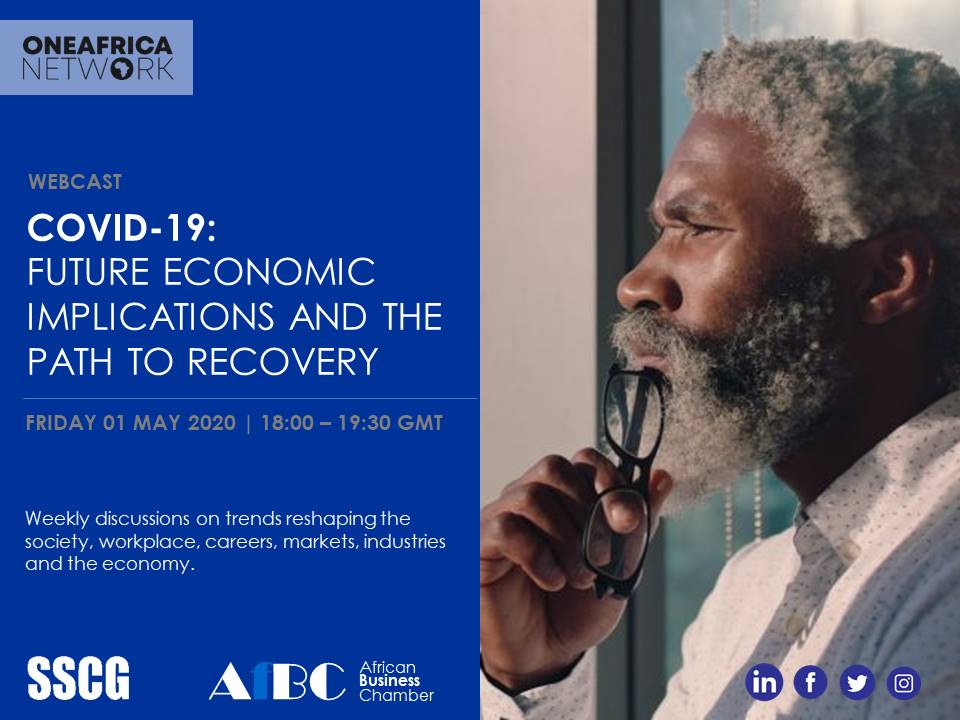 The coronavirus outbreak is first and foremost a human tragedy, affecting hundreds of thousands of people and communities. It is also having a growing impact on the global economy and many businesses.
Join One Africa Network (OAN) Webcast live discussion event on COVID-19 – Future Economic Implications and Path to Recovery on Friday 01 May 2020 at 18:00 BST to hear and learn from our panel speakers as they share perspectives and winning strategies to help you overcome and see through the current COVID-19 crisis.
Our virtual webcast will bring together leaders, businesses, professionals, industry experts, entrepreneurs and influencers to discuss the most important topics in business, finance and society today. Connect and hear from other professionals across the industries and regions on their experience and best practices in managing business as usual, home working, social distancing and health disruptions. Gain insights, market updates and better understanding on some of the positives and opportunities arising from current rapidly evolving global economy, key priorities and where to direct the right focus.
TOPICS:
Beyond COVID-19: UK economic growth and development opportunities

Planning for recovery and growth in times of uncertainty

The future of remote economy, virtual services and business as usual

Entrepreneurship: Unlocking opportunities out off disruption

The new world of work: People skills, careers and employment for BAME

Staying ahead of the curve: The path to the next normal and recovery
Moderator: Eugene Nizeyimana – CEO, SSCG Consulting, Chair/President of African Business Chamber (AfBC) and Chair of One Africa Network (OAN)
SPEAKERS
Dr Ade Oyedijo – Ass. Professor in Logistics and Supply Chain Management, Hull University Business School
Dr Susan Sisay – Programme Director (DBA), Birmingham City Business School
Venandah Madanhi FRSA – Founder at Talk About
Cynthia V Davis FRSA – Founder and CEO at BAME Recruitment
Barbara Phillips – Founder and Director for Strategic Comms Consultant/NLP Practitioner/Mediator at Brownstone Communications
Dr Sola Adesola – Visiting Professor & Senior Lecturer, BAME/EDI Leader and Founding Chair, Africa Forum at Oxford Brookes University
Professor Qile He – Professor of Strategy and Performance Management, University of Derby
Dr Oluwasoye P. Mafimisebi – Senior Lecturer & Institute Head of Research at De Montfort University and Expert in Risk/Crisis Management Strategy, Resilience and Business Continuity
JOINING DETAILS
Joining details for the meeting will be shared after completing your registration.
ABOUT ONE AFRICA NETWORK
The leading network for African entrepreneurs, investors, businesses, leaders and professionals in the UK. Committed to advancing entrepreneurship, innovation, excellence, inclusiveness and sustainable economic growth.
One Africa Network is hosting a new series of virtual events, as we continue on our mission of informing, inspiring, and connecting audiences around the world during these uncertain times.
We remain committed to bringing you objective, solutions-based discussions and opportunities for connection. Follow our discussions and tweet us @OneAfricaNetwork using the hashtags #OneAfricaNetwork
Visit www.oneafrica-network.com for more details