Pony – Old Skool RnB, Hip-Hop, Dancehall & Trap
March 23, 2019 @ 10:00 pm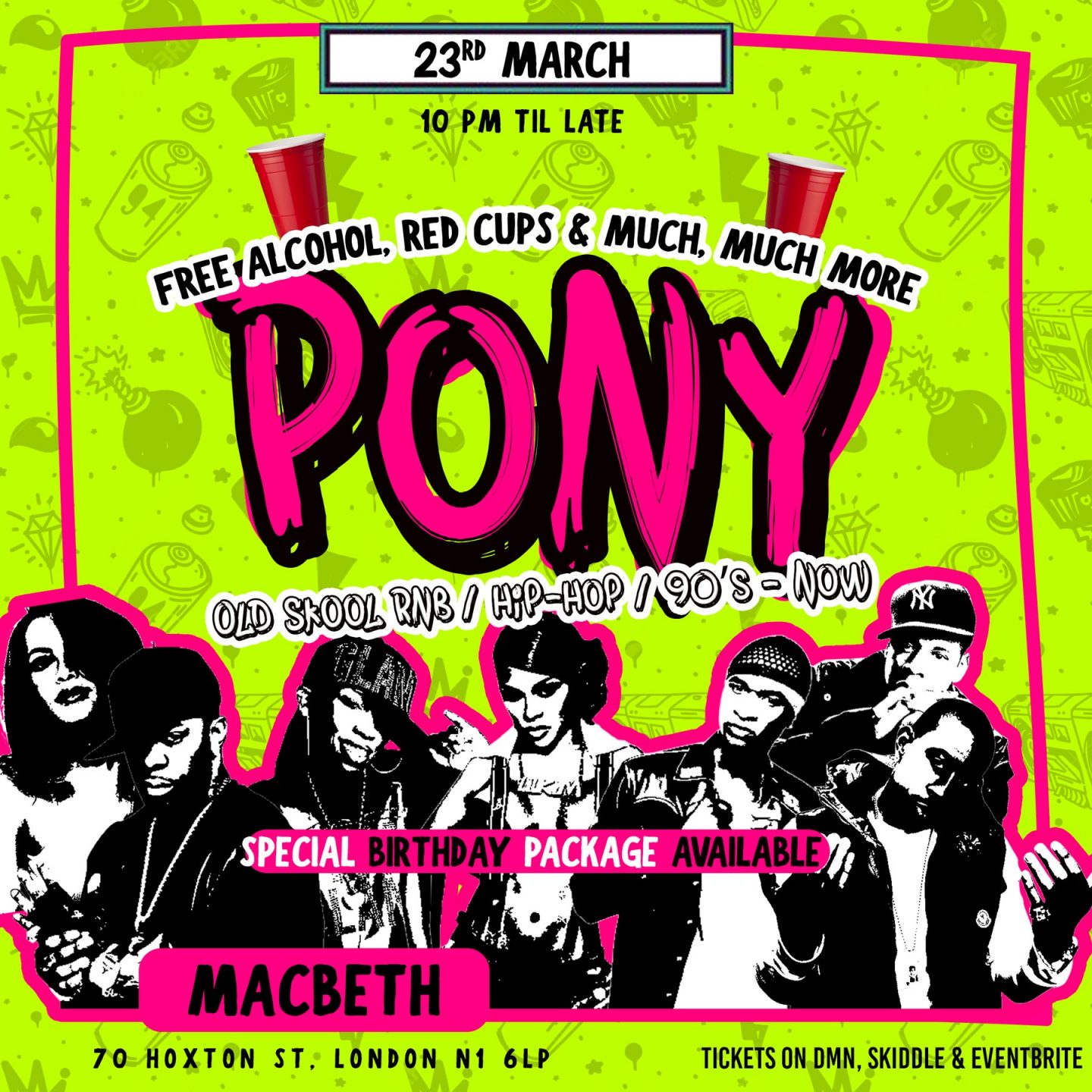 If you're horny, let's do it… Ride it, my pony… My saddle's waiting… Come and jump on it…
Hoxton's #1 Old School RnB night is back for another special night. Our resident DJ's will be playing your favourite RnB, Hip-Hop & Dancehall bangers all night long.
Expect to hear the best:
90's classics from:
Ginuwine / Lil Kim / Blackstreet / Usher / TLC / Destiny's Child / Busta Rhymes / LL Cool J / Notorious BIG / Foxy / Mary J Blige / Dru Hill / Joe / Faith Evans / Aaliyah / R Kelly / Fabulous / The Fugees / Missy Elliot / En Vogue / Brandy / Toni Braxton / Jagged Edge / D'Angelo / Mya & many more
& 2000's classics from:
Drake // Migos // Kendrick // Chingy // Ja Rule // Tory Lanez // J Kwon // Nelly // Twista // Kanye West // J Cole // Rihanna // Lil Kim // Fat Joe // Eve // Ludacris // Gucci Mane // Ashanti // Soulja Boy // Lil Wayne // Rick Ross // French Montana // Chris Brown // Sean Paul // T.I. // T-Pain // Akon & many, many, many more.
Best of all, we'll be giving away 30 minutes of unlimited bottomless punch. The bottomless punch lasts from 10:00pm – 10:30pm.
Contact:
Events Manager Contact: Danny For Tickets, Birthday Deals, and Info
Call/WhatsApp: 07799084645
Email: Info@WhatsTheMotiveUK.com
Birthday Deal:
If you're attending with more than 10+ people, you're entitled to two free bottles of prosecco, queue jump, free entry for the birthday celebrant and your own table. To claim this, purchase arrive at any time tickets and send over the 10 names for queue jump to 07799084645/info@whatsthemotiveuk.com. First come, first serve.
Time: 22:00 – 03:00
Dress code: Smart Causal (No Hats / No Hoods)
Location: Macbeth Hoxton, 70 Hoxton St, London N1 6LP
Strictly 18+ | ID Required.
Doors close at 11:30 sharp. No re-entry until after 12PM
Priority tickets £15+ on the door
By purchasing a ticket you:
Adhere to our advised arrival time at 10:00 to secure bottomless punch
Adhere to no 'ticket exchanges' under any circumstances
Adhere to our "no refund policy" under any circumstances outside of event cancellation.
Consent to receiving e-mails from what's the motive for future events. Display name – "Danny | What's The Motive"
Adhere to our right to refuse admission under circumstance deemed hazardous to our event and the enjoyment of our attendees
Adhere to using your content relating to our event for promotional purposes
Adhere to our 'no liability policy" that denotes neither promoters nor the venue management maintains ANY liable for any loss, injury or damage sustained within the venue
Any complaints relating to the event should be made to the event managers or representatives promptly, prior to or during the event
Adhere to our dress code policy which denotes baseball caps, hoodies, tracksuits and sportwear are not permitted.
F.A.Q
If you see another event listed at the same venue online, please do not worry. This simply means that another event could be taking place in the venue's top floor. Tickets guarantee entry to both events.
Bottomless Rum Punch
For bottomless rum punch, please head to the bar and show your tickets to the bar staff.