Ranking Ann Live! Reggae Sunday Jam
February 4, 2018 @ 6:30 pm

-

11:00 pm
Event Navigation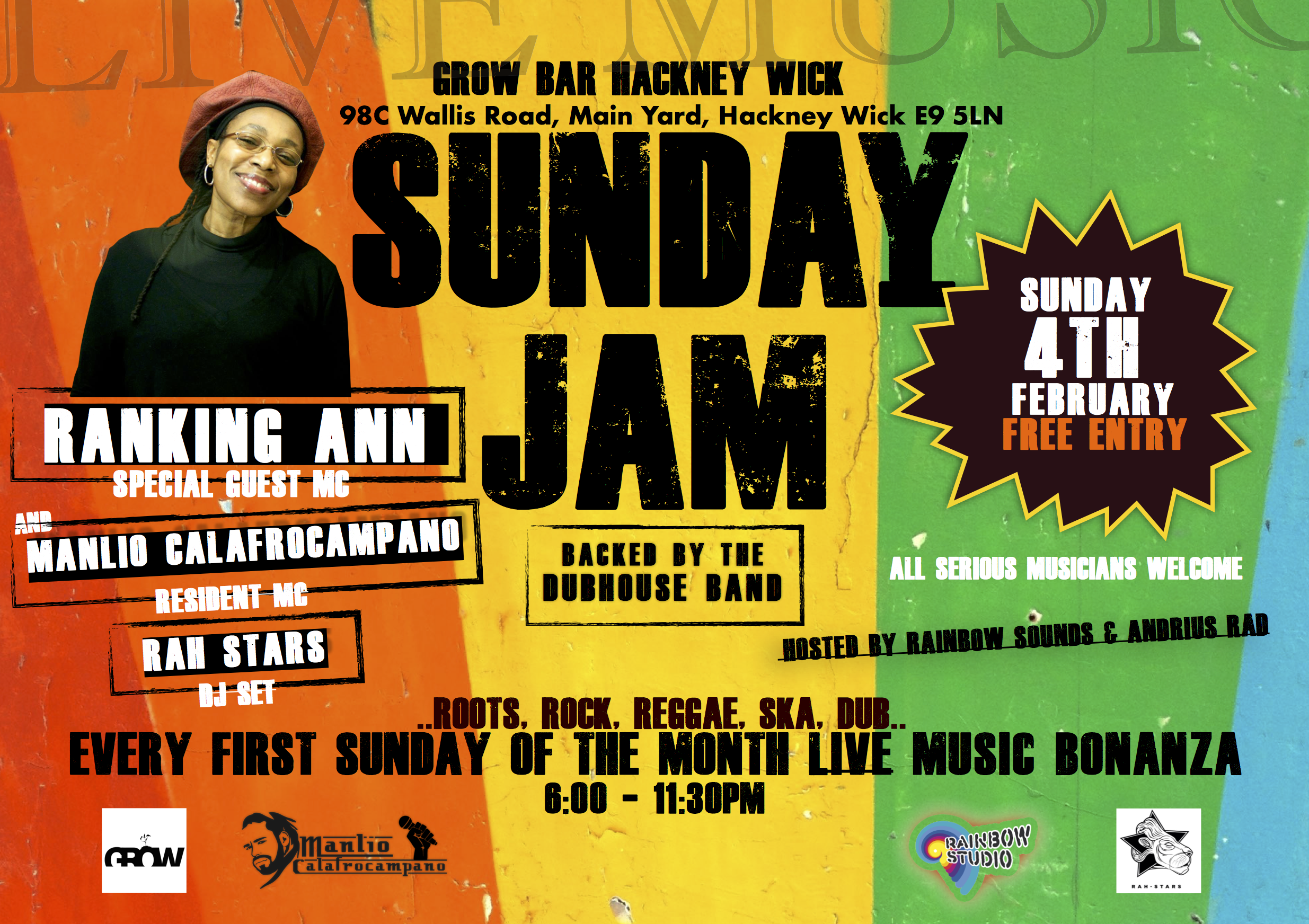 The Sunday Jam sessions are back with Roots Rock Reggae Dub at the Grow Bar! Musicians join together to bring some new music and some well known riddims live on stage! From roots to ska to dub, expect some serious dancing vibes!
SPECIAL GUEST MC: RANKING ANN
Resident MC: Manlio Calafrocampano
and DJ SET: RAH STARS
Hosted by Rainbow Sounds and Andrius Rad
@RainbowSoundsStudio
Backed by the DUBHOUSE BAND
Charlie Bendjie on drums, Andrius Rad on Bass, Luca Bat on Keys and Boris Latinov on guitar, Richard and Jonah on brass section!
*************************************
RANKING ANN
Ranking Ann came to prominence on her brother's Black Rock sound system playing in and around London. She began her recording career with an uncompromising debut, 'Liberated Woman'. This resulted in her being categorized as the music's feminist DJ. When labelled as such, she announced, 'No Rasta me's a individualist'. In 1982 she released 'Love On A Mountain Top' but returned to her revolutionary style for 'Dangerous MC'. Her popularity led to the release of A Slice Of English Toast, produced by Mad Professor. She appeared on the UK's black magazine television programme, Black On Black, which was noted for featuring live appearances of visiting Jamaican performers. As an exception to the rule, the show's producer focused on the Saxon sound system with performances from Tippa Irie, Daddy Colonel and Lorna 'G' Gale alongside Ann. Demonstrating her charisma in an extraordinary performance of 'Militant Style', she paraphrased the expression 'All Dem Want Is Coal Not Dole'. In 1984 her career advanced further with the release of 'Something Fishy Going On' and an excursion to the USA as part of the Ariwa Posse Tour. In 1985 she made known her opposition to the parliamentary act allowing the police wider powers to stop and search suspects, of which the majority were black – 'Kill The Police Bill' was a pertinent piece that tackled the issue. It received strong support from the Red Wedge group, and as a result, Ranking Ann toured alongside some of the UK's leading pop stars promoting socialist ideals.
MANLIO CALAFROCAMPANO
Manlio Panza AKA Manlio Calafrocampano is one of the most important new school's italian raggamuffin singers.The vocal style is very impressive, fast and deep, with different tonalities and extrabeat, the rebels and philosophical lyrics are fresh and mystical at the same time, moving between the new roots, reggae and jungle melody. Since he's been in London, from 2014, he has performed in many different venues as: Passing Clouds, Brixton Jamm, Hootananny, Fox & Firkin, Prince of Wales, Silver Bullet, Hand in Hand, LARC.His first album "Consapevolezza" in 2010 received more than 3000 downloads and 100000 views on YouTube, and just a few months after, Manlio started his tour with hundreds of concerts in Italy. Later in 2014 he had his first gigs in Europe with shows in England (London and Brighton), Holland (Amsterdam) , Spain, Canary Island (Tenerife and Gran Canaria) and Germany (Hamburg)In collaboration with Fenomeno Show and Open The Gate Sound, he produced his first London's Ep and his first official video called "Babylondon" featuring the jamaican MC Samurai, followed by the videoclip "Ragga'n'bass" in 2015 and the Uk's mixtape "Rude Soul Mixtape" in 2016.The last production, released in July 2017, was a single and street video titled "'A Cartina" produced by RahStars Project in Brixton, which started different musical productions and events projects as: Reggae Night Fever and Spaghetti Night.
*************************************
GROW BAR
Grow is an independent bar, kitchen and creative space carved out of an old sausage factory by the River Lea in Hackney Wick. It is run as an experiment in ethical and sustainable business and works in partnership with local artists, musicians, DJ's and community groups. Most events are free, from live jazz and blues, open deck reggae, open mic and art festivals. Grow exists for music, art, food, conversation, community and belonging. Everyone is welcome.
Grow, 98C Main Yard, Wallis Road, Hackney Wick, E9 5LN. Just two minutes walk from Hackney Wick Overground and 15 mins walk from Stratford.
Website www.growhackney.co.uk
Instagram, Twitter & Facebook @growhackney