Reclaiming our Birthright: An Embodied Gathering for Black Men ( PART 1)
July 25, 2020 @ 11:00 am

-

1:00 pm
Event Navigation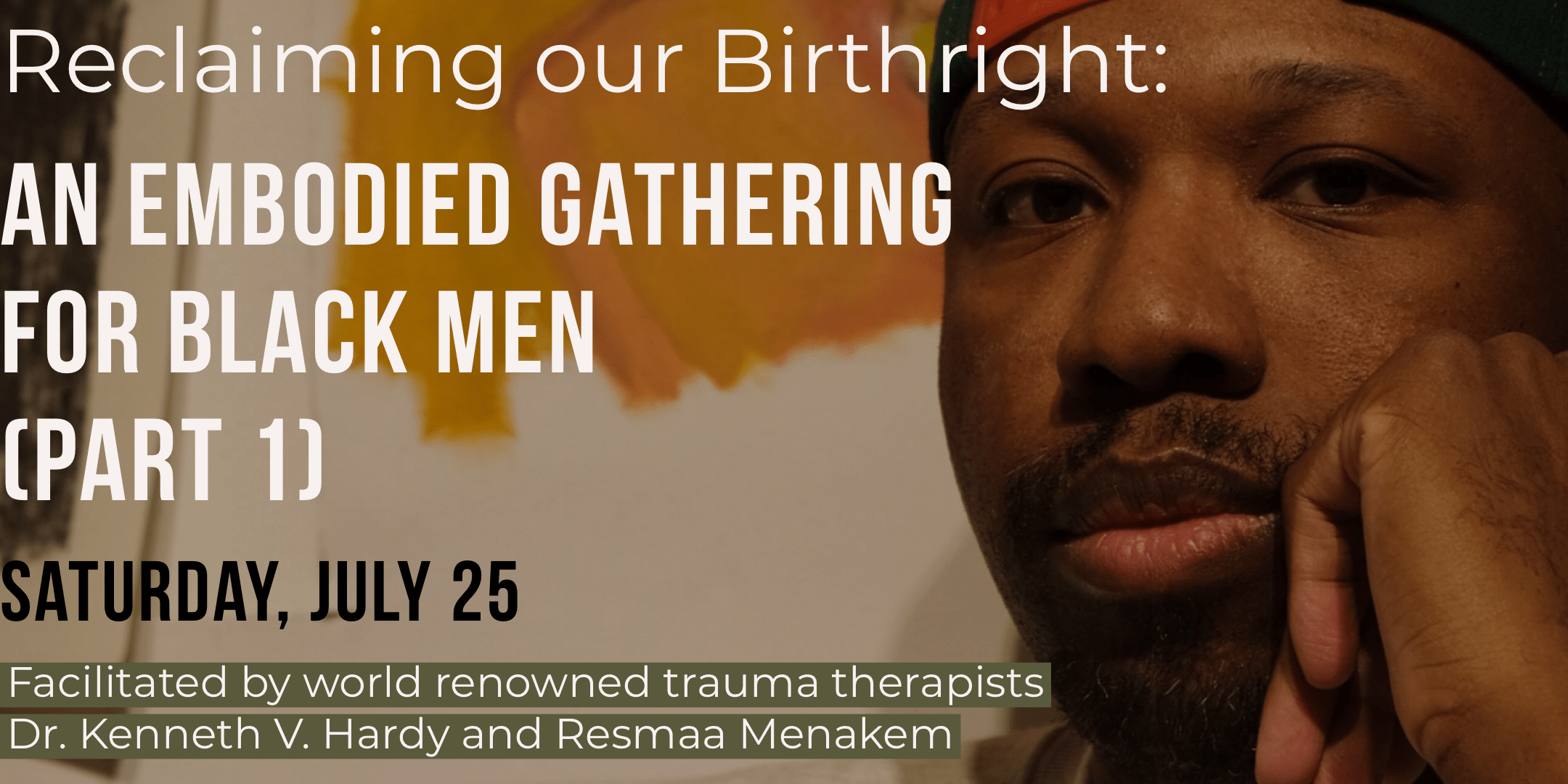 We will share our embodied experiences as Black men & the ways we have come to understand these experiences in this society.
As Black men we have a wealth of resources innate to our embodied experience. These are resources we need for our own life and our peoples' lives to thrive. Embodied wisdom, and an internally driven, emergent authority is our birthright. A birthright that the legacy of white body supremacy and racialization has threatened and attempted to eradicate. This legacy lives on in our bodies, impacting our physical, mental and spiritual health and well-being.
Our birthright is wholeness and health. Let's reclaim it.
Description: In these two sessions we will share our embodied experience as Black men and the ways we have come to understand our experience in this society. We will hold a space for truth to be spoken and felt, embodiment work to be practiced together, in community, and space for healing among brothers. This is a time for us to come together, to feel our collective strength and resilience, to connect with our ancestors and to walk a path forward together.
Details: This is a two part event- July 25th and August 1– you must register seperately for both to attend both.
July 25th —Session one: This first session will have Resmaa and Ken speak from their experience, share their work and join in a discussion together on these topics. The time will include lecture, embodiment practices, free flow conversation, and some time for questions and answers with Resmaa and Ken.
This first session we will focus on setting a cultural container and holding this cultural container together so we can begin to explore a healing and embodied living philosophy.
This is not just about strategy, but about having a clear understanding of what we have been through and what are the embodied resources that are available to us, to help us move forward in our resilience. These embodied resources will allow you to be more flexible and to be able to move with what's being presented to you in this racialized society. As a result of this time you will have ways of managing the impact of daily life in a racialized society because you will have a new philosophy helping you navigate it; Fight, flight, freeze are not the only options for our survival.
White Body Supremacy is a philosophical paradigm and it has a deeply rooted infrastructure; in order to deal with that, we have to have our own philosophical structure where we are rooted in other sources of strength and dignity. From this approach White Body Supremacy is rendered powerless.
The body of black men have an innate intelligence, there is a knowing that we all have and we are going to put a voice and language to what we already know.
We will give language to what is what has been and what's coming.
August 1st, Session two: (Please Register on the other ticket page for this event)
In this second session, from the ground and container we created in session 1, we will then focus on application: the detailed application of how this works. What does this look like in our lives? Things are going to show up and seem unnerving; we will place the philosophy into this context and explore the application together. We will also put your experiences into this context , so session two will offer more space for participants to engage with Resmaa and Ken directly. It will also be a time to laugh, enjoy, joke, cry, talk, rib, and connect as brothers.
While anyone can attend PART 1 of this two part series, one request is that you must have attended PART 1 to be able to attend PART 2. Both events must be registered for separately.
Cost: We are currently fundraising for this event to hopefully be able to cover most of the costs of facilitation and production. No one will be turned away for lack of funds. Our intention is to make this accessible to any and all black men who want to join us. Each part must be registered for separately — Sliding scale registration fee for each is $50- $100.
If you have financial barriers and cannot purchase a ticket, please email educationforracialequity@gmail.com for scholarship opportunities.
Related Events