RETURN TO YOUR ROOTS FESTIVAL 2018 – NATURAL HAIR, BEAUTY, HEALTH & WELLNESS
May 5, 2018 @ 12:00 pm

-

May 6, 2018 @ 8:00 pm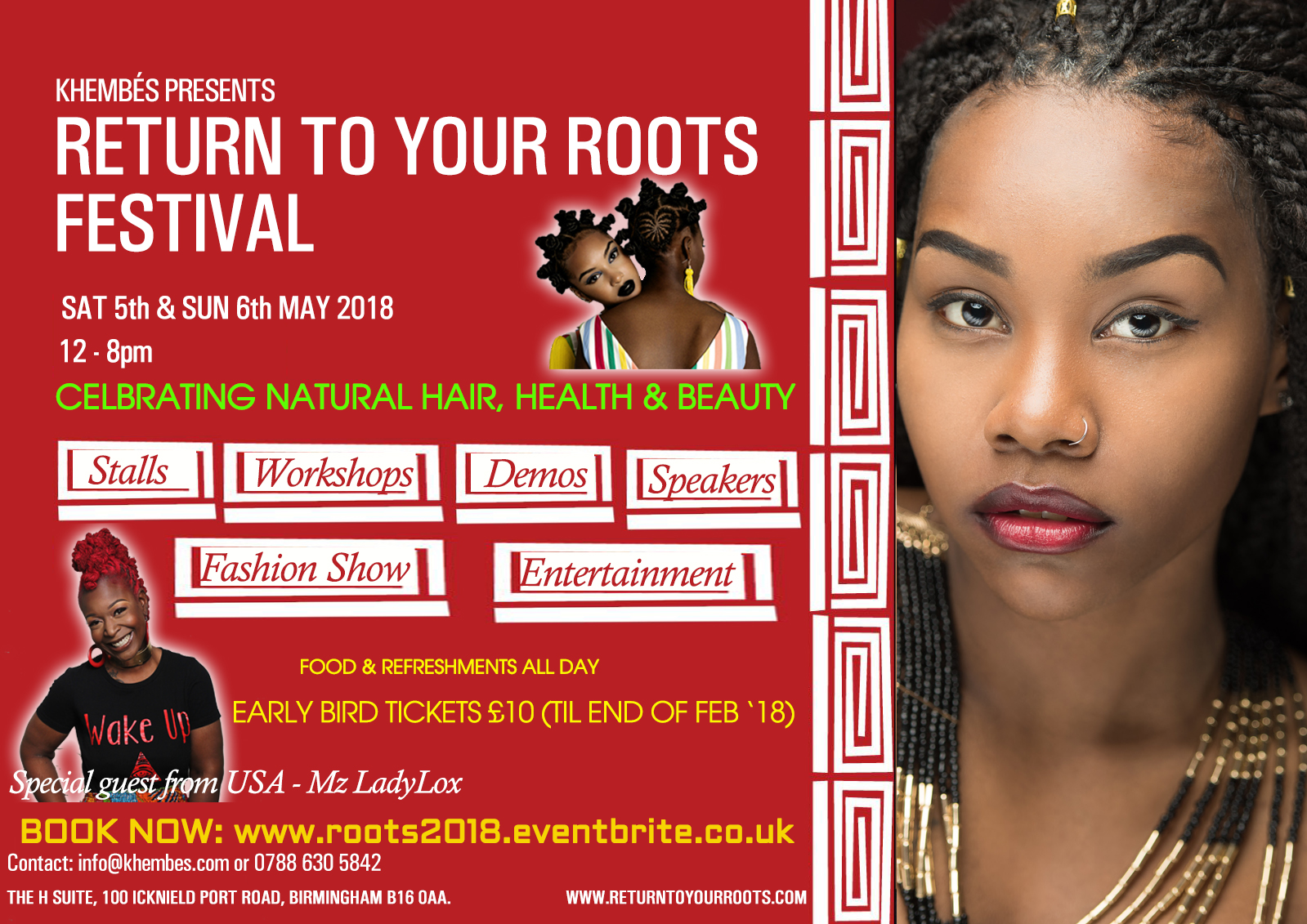 This a two day cultural festival for those loving all things natural.  A weekend of celebration, embracing Natural Hair, Beauty, Health & Wellness.
Day 1 – Saturday 5th – Natural Hair and Beauty 
Day 2 – Sunday 6th – Health and Wellness
A family occasion full of postive vibes and high energy. If you missed last year, then you don't want to miss this one!!! Come and share in the celebration, fellowship and fun at Return To Your Roots Festival 2018.
What can you expect?
A range of speakers and natural hair experts, stalls, open panel discussions, workshops, demonstrations, films, African influenced fashion show and entertainment. You will leave informed, educated, inspired, entertained, uplifted and empowered. Come and join in the journey to naturalness and wellness.
Want to know more about looking after natural hair? Interested in improving your health and wellness. Looking for useful information and guidance on the above? Well look no further!
Return to Your Roots   –   Sat 5th May 2018 – Natural Hair & Beauty Focus
Find out all you need to know about natural hair & beauty, experience product demonstrations, get easy maintenace and styling tips.
The day will include workshops, talks, discussions and information on:
Understanding your hair type and the products to use

Why does hair matter so much? – The history and politics of our hair

Hair Journeys – Hair stories

What can I do about dry scalp and thinning hair?

Loving my hair – Children's workshop and story telling

Daddy can you do my hair? – Daddy and daughter workshop

Where are the African/Caribbean suppliers of hair and beauty products?
Return to Your Roots  –  Sun 6th May 2018 – Health & Wellness Focus
Focussing on how to ensure optimum physical and psychological  health & wellness
through the use of natural herbs, diet, exercise and mindfullness. Hear from the best, participate in discussions, get your questions answered and share valuable information with like- minded people and health & wellness experts.
A diet of rice, potato, dumplings and macaroni cheese etc….yum! yum! –  Healthy or Not?

Sampling tasty vegan food

How to take responsibility for my health

God's Healing Foods

The benefits of eating Raw

Shining a light on Black men's health – prostate cancer

Is exercise for everyone?

Anxiety and stress – are you managing it?
Daily – Early Bird ticket £10 + booking fee – available till 28th Feb 2018 (after will rise to £12, £15 on the door)
Weekender (both days) – Early Bird ticket £18 + booking fee – Available till 28th Feb 2018 (after will rise to £20)
amazing stalls: Support small and growing businesses ££££
African clothes/fabrics, Jewellery, books, natural hair and beauty products, massage therapy, health and wellness products and much more…
Monday 7th & 8th May 2018
Mz Lady Lox – Locking Master-Class. If you are interested in securing a place you must book prior to the class..
Want to learn locking and loc styling techniques and earn full/part-time income?
Want to improve your locking skills?
Turning away clients requesting loc styles? Why? Just learn the techniques
Want to grow your client base by extending your service offer
More information to follow…..
For more information contact: Khembe Clarke – 07886305842 or email:
                                    info@khembes.com