The Black Market & Film Festival – Saturday 5th May 2018
May 5, 2018 @ 12:00 pm

-

9:00 pm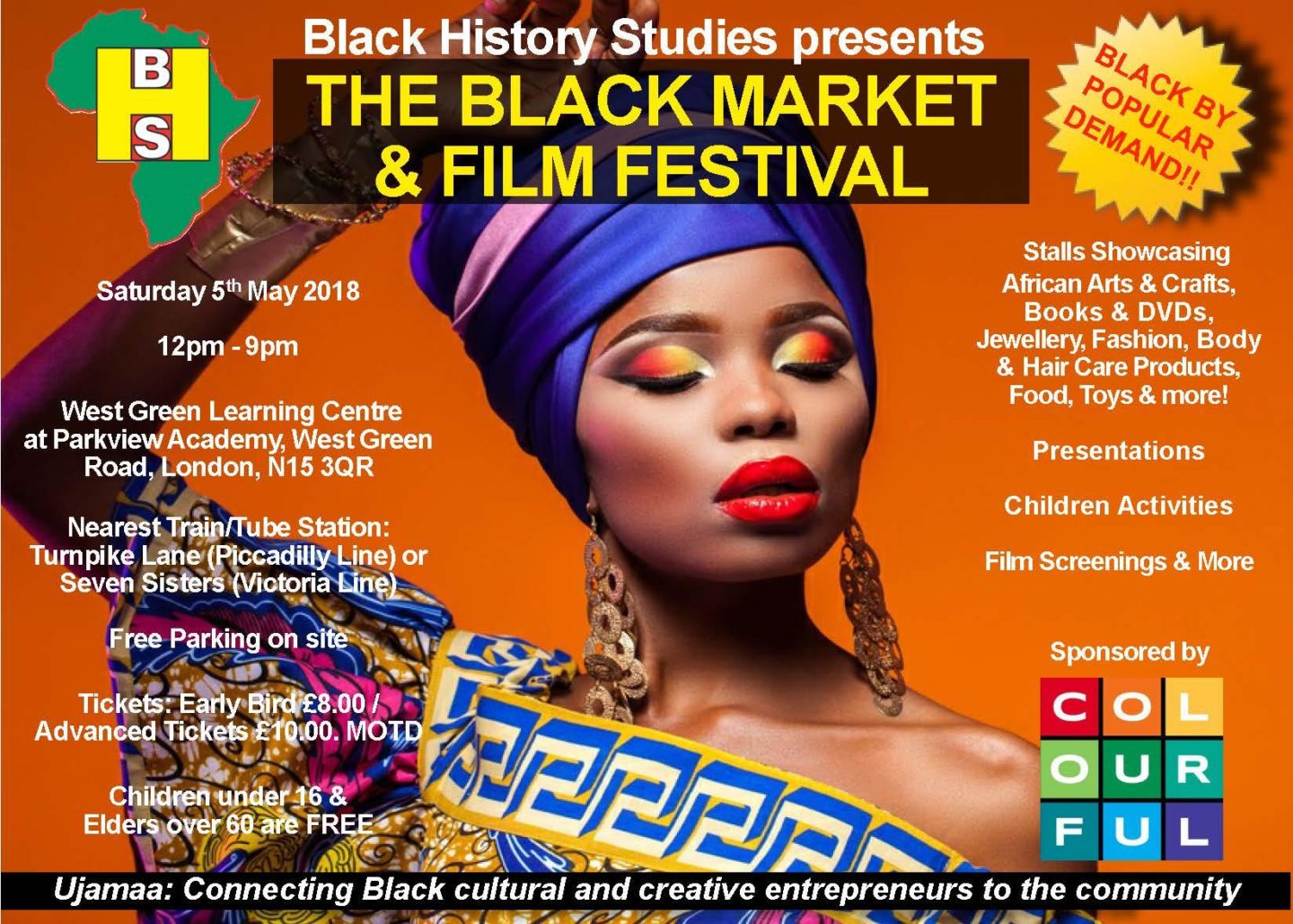 Black History Studies presents

'The Black Market & Film Festival'

Saturday 5th May 2018
12pm – 9pm
West Green Learning Centre @ Parkview Academy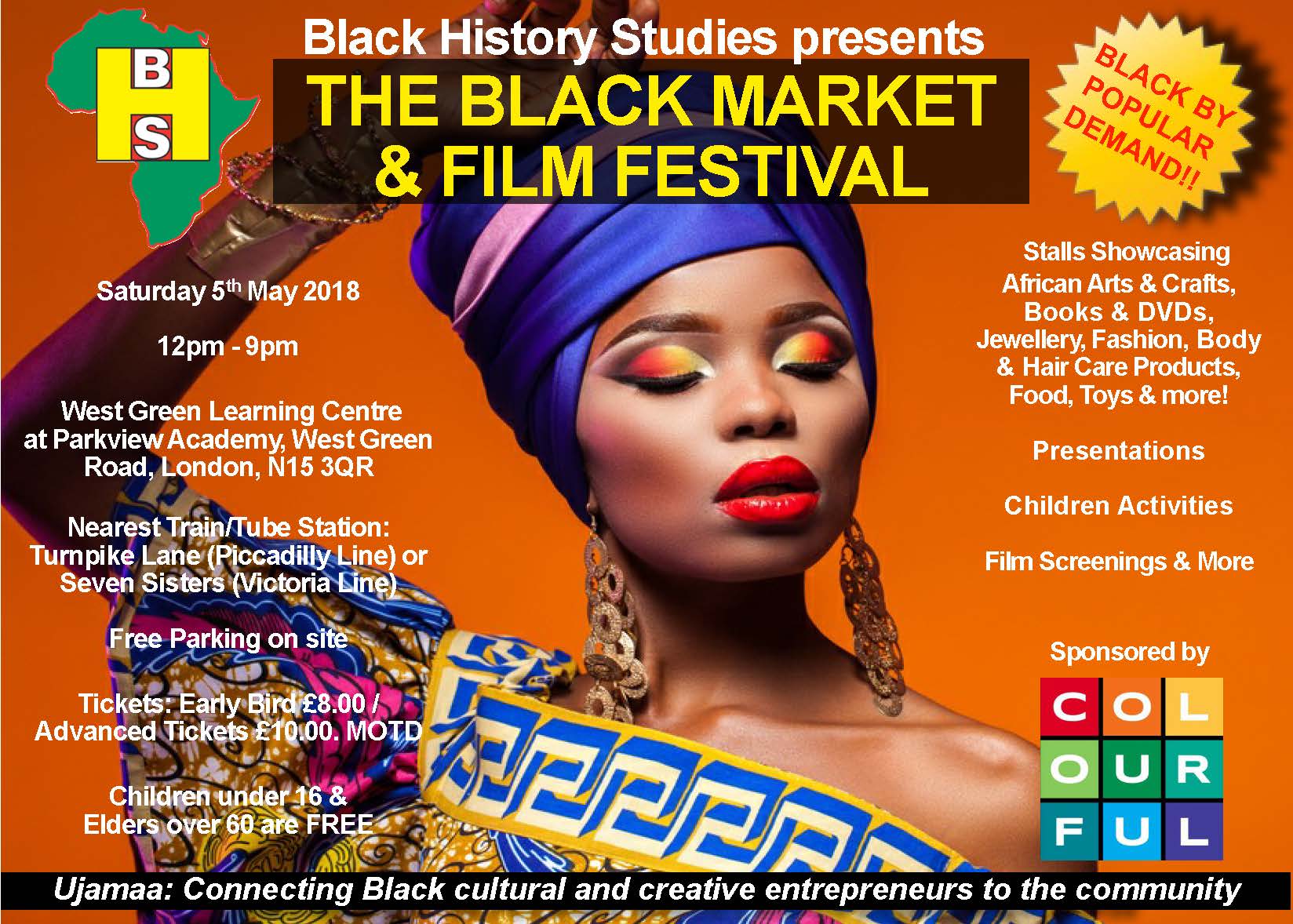 The 13th Black Market & Film Festival is an event to showcase, expose and connect Black cultural and creative entrepreneurs to the community and to provide a platform to sell their products, promote their skills and engage with the local and surrounding community.
The aim of the event is to:
Showcase and connect Black cultural and creative entrepreneurs to the community

Increase the exposure of Black cultural and creative sector's participation in the wider community

To provide a platform to sell their products, promote their skills and engage with the local and surrounding community.

To raise the awareness of the importance and relevance of increasing your personal financial literacy and the benefits of developing and adopting an enterprising lifestyle.
We will have over 40 stalls showcasing African Arts & Crafts, Jewellery, Fashion, Skincare, Hair Care, Food, Books, DVDs, Toys & much more! There will be educational and interactive presentations on Financial Literacy and film screenings for all the family. Children activities and more…
Look who is exhibiting at this event http://blackhistorystudies.com/our-services/the-black-market/exhibitors
PROGRAMME:


12:00 – UK PREMIERE of 'Business in the Black: The Rise of Black Business in America (1800s – 1960)' (2017)  by Anthony Brogdon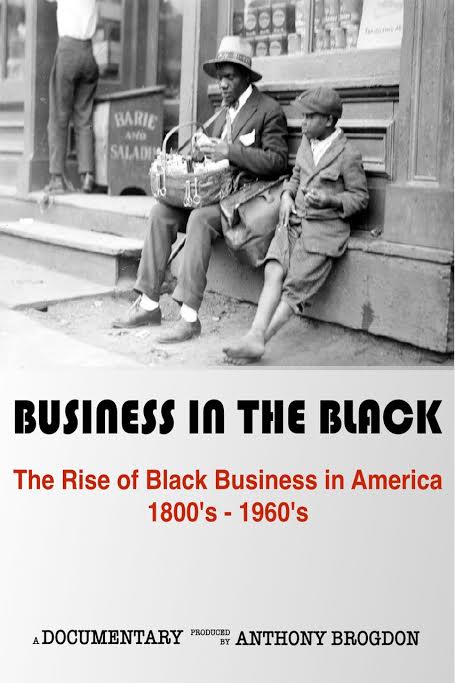 Business in the Black (2017) is a documentary with three important segments. First, the film asks: How did slaves go to college? Here, the film explores the ways in which African Americans sought higher education, what qualifications were necessary to be accepted to college, and which colleges allowed African Americans to attend school. Second, the film explores the ways in which racists sought to destroy Black business districts across the country. Specifically, the film looks at how African American businesses were impacted by race riots, bombings, and government action. Finally, Business in the Black takes a look at the rise of Black business in America. The third segment does the important work of naming Black millionaires in the 1800s, exploring the growth of Black business districts, and discussing African American individuals who became entrepreneurs or fostered the growth of business communities. The film also includes interviews with individuals whose families owned businesses in the early 1900s.
13:30 – BHS PREMIERE: 'Back To Natural: A Documentary Film' (2016)
by Gillian Scott-Ward, PhD


Back to Natural: A Documentary Film (2016) is a groundbreaking documentary film that takes a shocking and emotional look at the intersection of hair, politics, and identity in Black communities. This documentary is a powerful, thought provoking, call for healing that takes a grass roots approach to exploring the globalised policing of natural Black hair. Filmed in New York City, Philadelphia, Paris, And Cape Town, this documentary explores universal aspects of the Black experience and the "New" Natural Hair movement. Join us on this journey of discovery and enlightenment while celebrating our history and natural styles that are taking the world by storm.

15:00 – Motivational Talk: 'When enough is enough' – Jump! by TJ Atkinson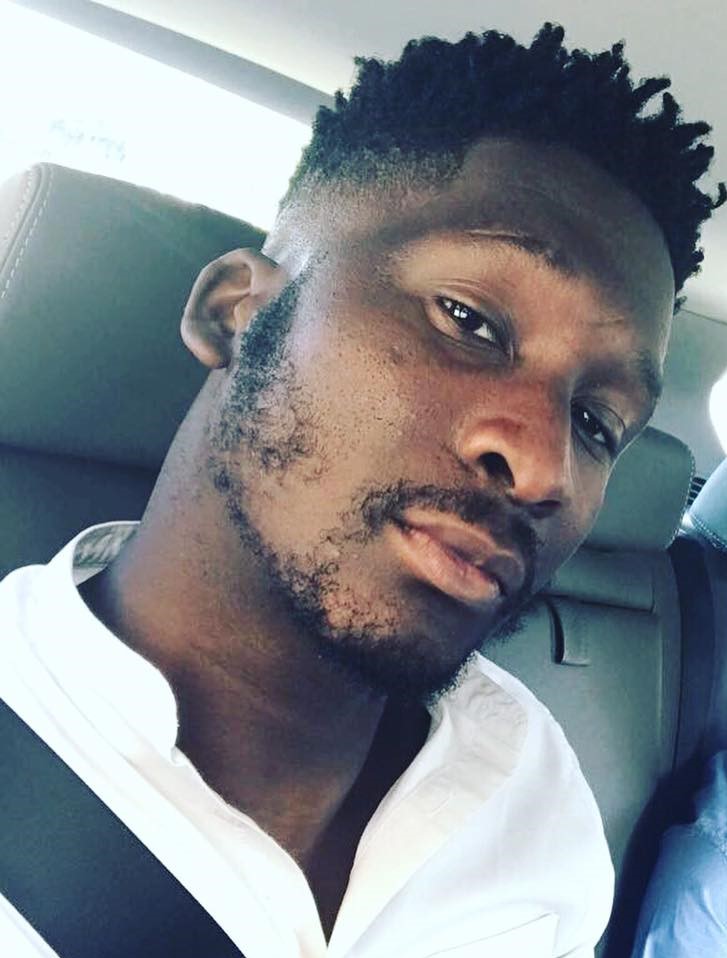 Tj Atkinson is an optimist. He believes in a future where every single person will take a bold leap into fulfilling their dreams. With a bold and ambitious goal of inspiring people to start a business and break the cycle, Tj Atkinson is leading a movement in challenging people to take action, jump and see what happens. Tj runs various property related businesses, a keen reader and author and an investor in startup businesses.

15:30 – UK Premiere of 'Word is Bond' (2017) by acclaimed writer, filmmaker and
hip-hop scholar Sacha Jenkins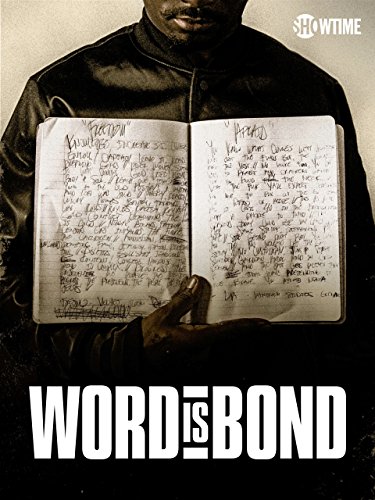 Director Sacha Jenkins (Fresh Dressed, Burn Motherf*cker, Burn!) and Mass Appeal explore the transformative power of lyrics in the world of hip-hop. Rap music is the modern-day personification of the blues- and yet today's blues encompass a broad spectrum of emotions hailing from North, South, East, West and the Far East, even. What was born in the South Bronx has now taken root globally, and the young poets of New York have helped to spawn regional dialects everywhere. Through dynamic archival footage, in-depth interviews and verite excursions with artists like Nas, Tech9, J Cole, Rapsody, and Anderson .Paak, this documentary explores the many dimensions that hip hop poetics occupy.
17:30 – Presentation: 'Jumpstart Your Financial Future' by Daryl Harper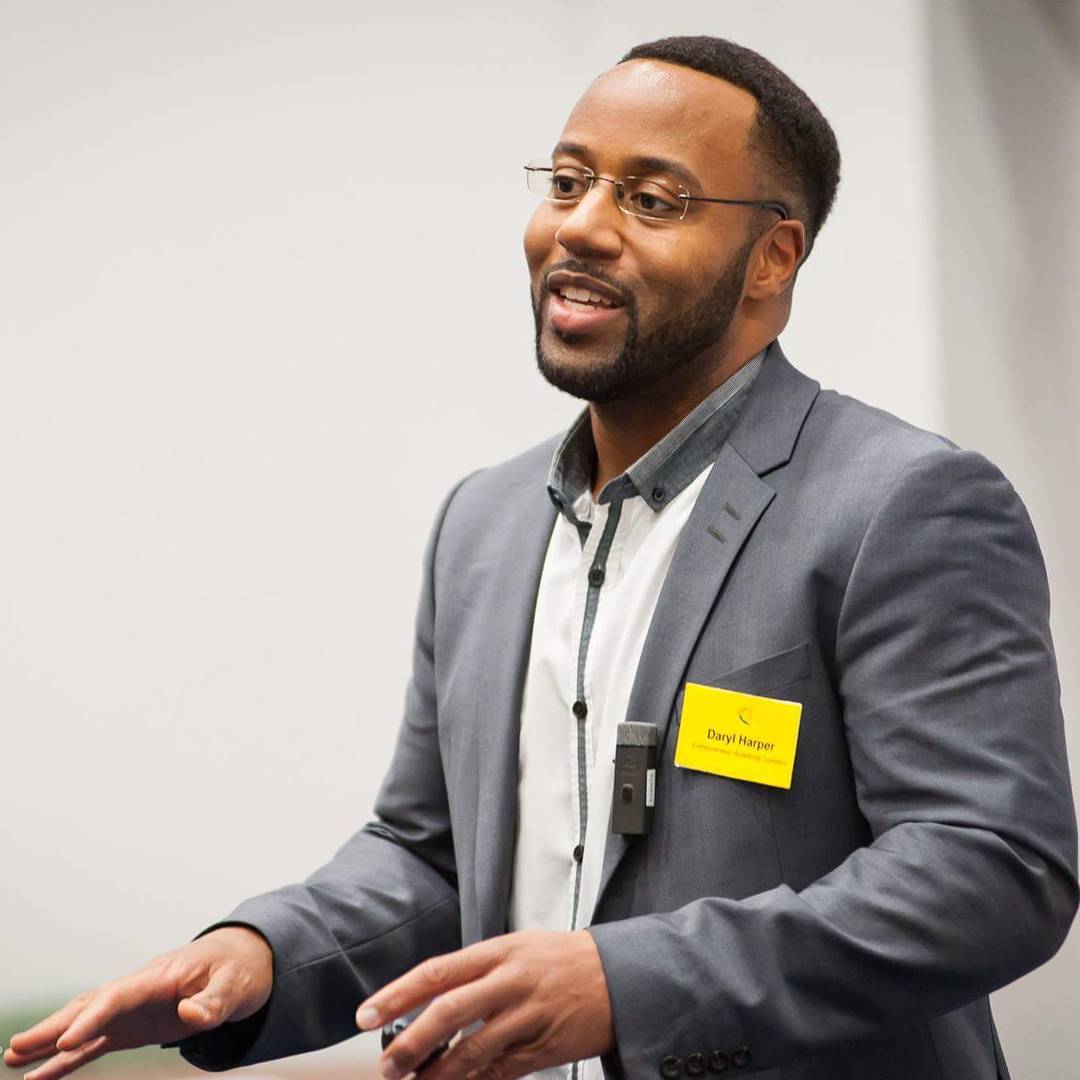 Money and Finance is a subject that many people are either never taught in school, they don't understand or, more often than not, they shy away from. This lack of knowledge and financial illiteracy has left many people struggling to get out of the rat race, the monotony of just surviving and living from pay cheque to pay cheque. This is your opportunity to learn some simple steps that can impact and change your life dramatically.

This is your opportunity to learn some simple steps that can impact and change your life dramatically. It's time to learn how to win the money game, protect your family, get your money to work as hard for you as you work for it, accelerate your mortgage, pay consumer debts off faster, save, make and get better value for your money and position yourself for a comfortable retirement.
Daryl Harper is a dynamic, energetic, infectious speaker, who always delivers from the heart and aims to provoke you into taking positive actions in the right direction. While teaching at a college, Daryl's passion for mentoring, equipping and coaching grew. He noticed that there was nowhere in the educational system that empowered people in the area of finance and there was a MASSIVE gap. An interest in financial education, personal development and leadership was birthed and he later found mentors and coaches who were very successful in the financial service arena. He went on to get trained and qualified to deliver financial education and has been working in the field since 2008
19:30 – UK PREMIERE of 'Malcolm X: An Overwhelming Influence on the Black Power Movement' (2017) by Thomas Muhammad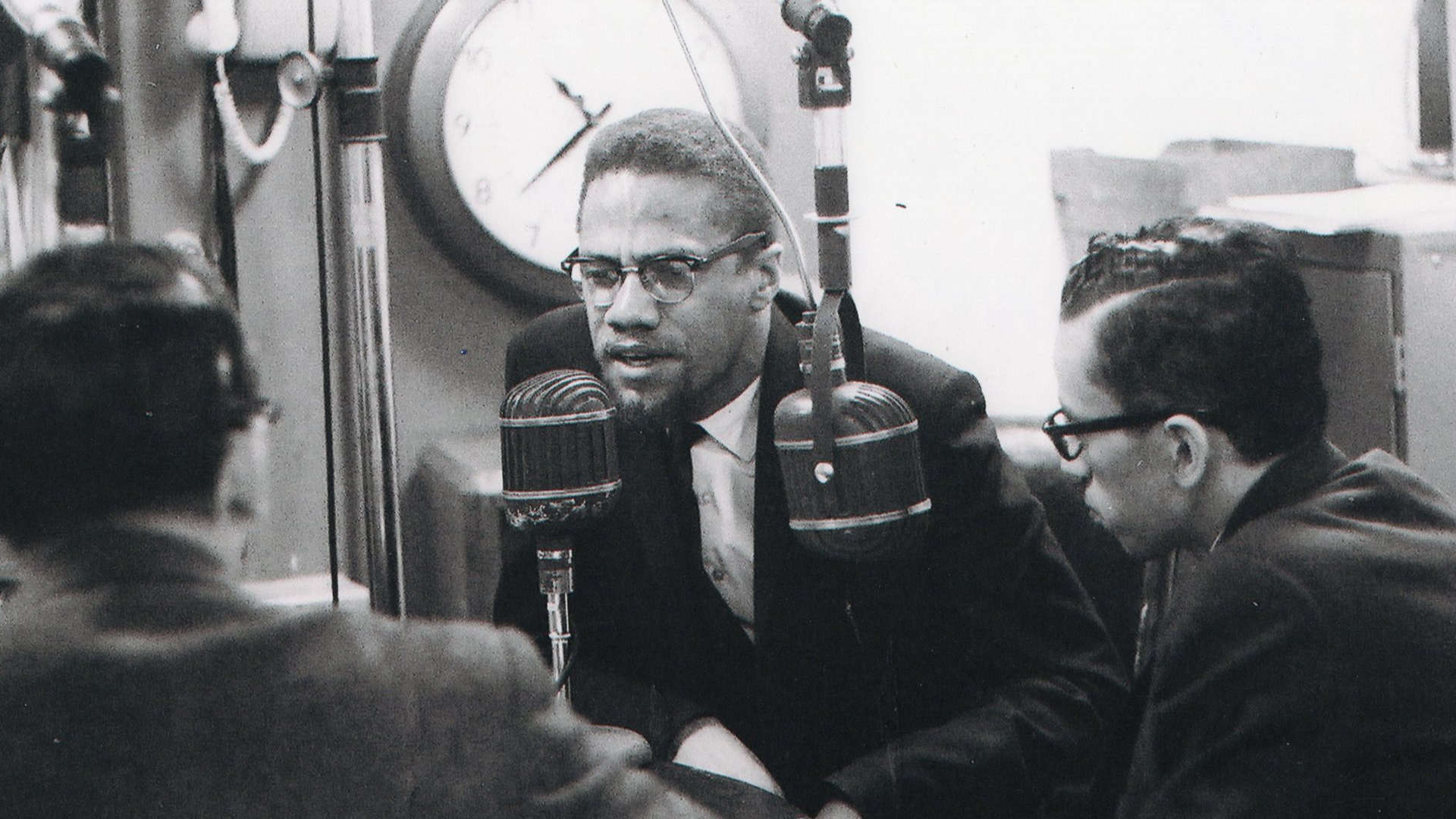 An enlightening look at Malcolm's early life and at the legacy of his powerful work in the historic struggles of freedom, justice and equality for Black people in America through the eyes of family, comrades and major civil rights figures. Many people in the film have never been publicly interviewed before and share very close, intimate and critical moments of their work with Malcolm from the ups and downs to the very last moments of his life.



TICKETS:

Any profits from the Black Market and Film Festival will go towards funding future events as we are SELF FUNDED and strive to be self-sufficient.
Our economic empowerment and liberation is OUR RESPONSIBILITY.
Early Bird Tickets cost £8.00 if purchased before MIDNIGHT on Saturday 31st March 2018.

Tickets will then be £10.00. More on the door.
Children under 16 and Elder's over 60 are FREE

Venue:
The event will be held at West Green Learning Centre @ Parkview Academy, West Green Road, London, N15 3QR.
FREE Parking!
Directions:
By Train: Seven Sisters Underground & Mainline Rail Station (from Liverpool St) and Tottenham Hale Underground & Mainline Rail Station (from Liverpool St).
By Tube: Seven Sisters (Victoria Line) and Turnpike Lane (Piccadilly Line)
By Bus: Numbers 41, 67, 230, 341 pass nearby the entrance. We advise that you get off at a stop near Black Boy Lane on West Green Road.
By Car: Free parking available, accessed via Langham Road or free on street parking along Black Boy Lane
Please note that this event will be filmed and photographed. This event is being filmed for display, distribution, and broadcast, including on television and the World Wide Web. By attending and participating in this event, you are giving your consent to be filmed and waiving any and all claims regarding the use of your image.