Side Hustle Institute
August 16, 2020 @ 1:00 pm

-

4:00 pm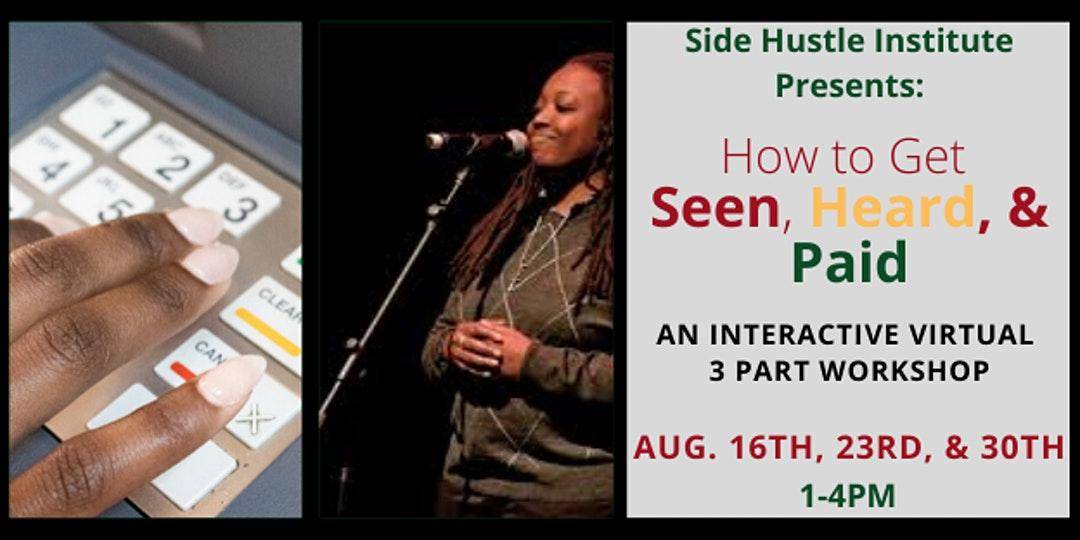 Learn how to get Seen, Heard and Paid in this interactive workshop for small business owners and side hustlers.
This interactive workshop is facilitated by creators who regularly generate income by doing what they love.
About this Event
Independent Artists and Creators have long grappled with the question of how to maintain their independence, do what they love, and consistently generate an income. This workshop is an interactive creative experience that will inspire participants to level up and provide them with actionable information to take their side hustle to the next level.
Participants who fully engage in and complete the Side Hustle Institute's "Seen, Heard & Paid" workshops, will be able to:
– Identify unique and profitable ideas
– Leverage their Identified passion and skills to generate income.
– Identify appropriate target audiences for their products
– Create accurate customer profiles
– Develop a money-making marketing statement
– Compose an engaging elevator pitch
– Price their products and services appropriately
This workshop is for Independent Artist, Side Hustlers, Wanna-be Side Hustlers, Small business owners and anyone else who wants to learn how to position themselves and their business in a way that makes them highly sought after.
Meet your Workshop Facilitators
Ti Coleman is a seasoned facilitator, comedian and teacher. A Black genderqueer performer, he is dedicated to building spaces for black queer and trans* folks to come together, and share stories as a mechanism of healing and celebration. As a community artist, they teach students and organizations how to use art to facilitate change. They are a youth organizer and facilitator, creating the first youth team at Baltimore Improv Group, a site manager for Creative Alliance after school, and a teaching artist with Young Audiences of Garland. Ti is a founding member of the all Black improv group, Casually Dope, and has featured as a performer and teacher at improv festivals in Toronto, Chicago, New York, DC, and Philadelphia.
S. Rasheem (known for saying just call me Rasheem) is a self-taught mixed-media, community artist. Her mediums are pencil, various types of pastel, and charcoal. Rasheem describes herself as a Womanist Artist whose art encourages a critical examination of society and culture through the lens of race, gender, sexuality, and class. Her work centralizes the lives and experiences of marginalized populations. Rasheem's work contributes to the growing body of art that is dedicated to the expression and celebration of Black Women & Girls. While her medium is most often pencil, charcoal and various types of pastel, she frequently uses other media. In addition to being a visual artist S. Rasheem is a poet. Her poetry can sometimes be found within the contours of her visual art expression. She also has a PhD in Social Work, a Masters in Nonprofit Management and works as an arts administrator full-time.
Krystal Lee is a serial experimenter, skills gatherer and lifelong learner. She was born in Kingston, Jamaica to parents who taught her the value of education and financial independence and how entrepreneurship can be a path to both. She is an educator by training and finds fulfillment in using her unique combination of skills to create value. Krystal lives at the intersection of creativity, education and generosity; most recently leveraging her skills and personal network to make free facemasks for healthcare workers and first responders. Krystal has a Doctorate in Education, a Masters in Public Administration and works full time as a research associate and curriculum design specialist. She is also co-owner of MelanatED Apparel, LLC. When she's not teaching, learning or creating, Krystal can be found watching reruns of the West Wing, eating good food and laughing until she cries.
Related Events