The A.C.E. MARKET | Afrikan Centred Education | 28.04.18
April 28, 2018 @ 12:00 pm

-

7:00 pm
Event Navigation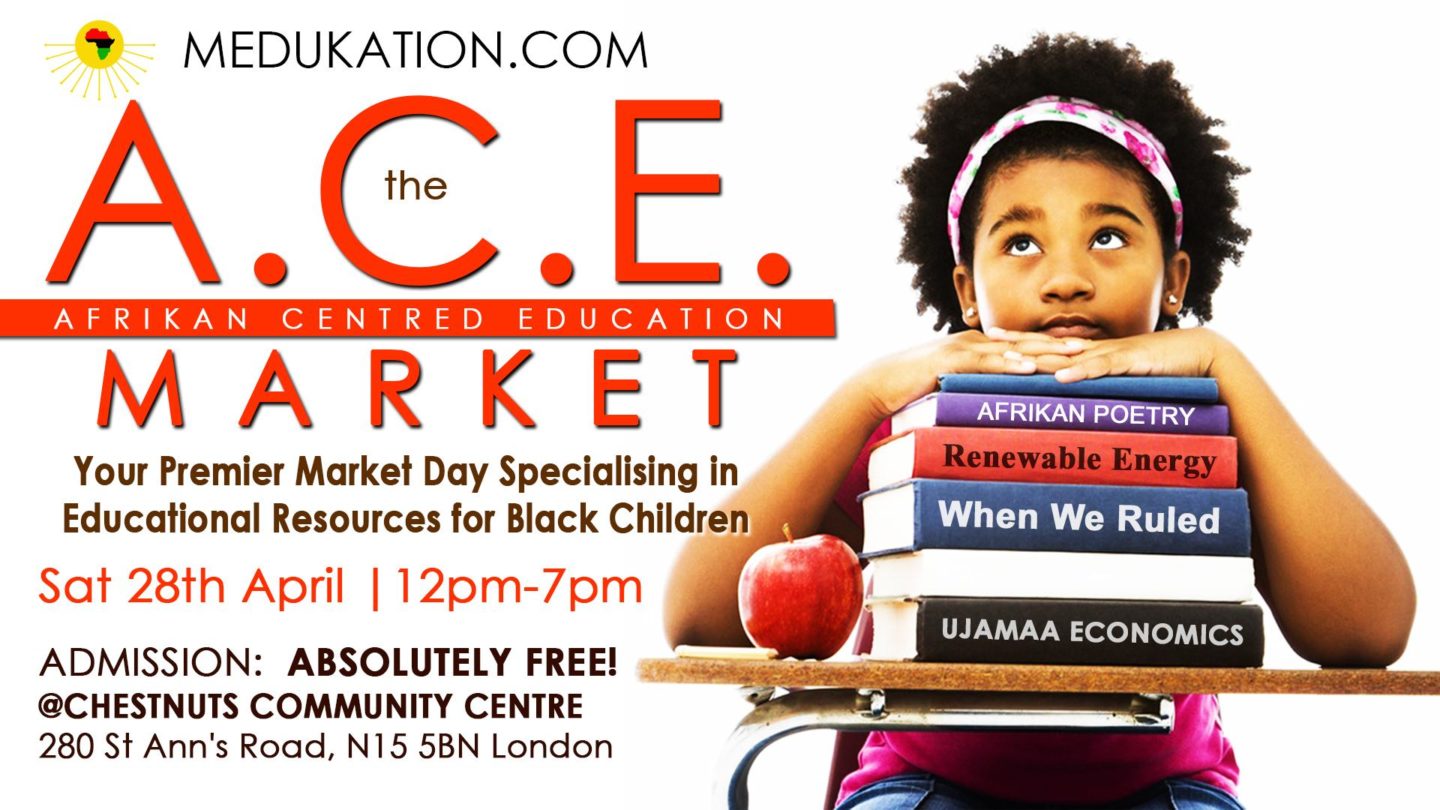 Tendai MWARI, Hotep, Alafia, Akwaaba, Sawubona,
Greetings Family,
We are pleased to inform you that medukation.com will be hosting another A.C.E. MARKET on Saturday 28th April 2018.
The day is designed for the expressed purpose of bringing together the Enterprises, Businesses, & Programmes in our community; especially (though not exclusively) those specialising in producing resources and services for Child & Adult Education – under one roof so that the Black community at large may be aware and therefore benefit from them.
FOR PRODUCERS & SERVICE PROVIDERS
Whether you produce or sell Books on a range of subjects, Visual Aids, Multimedia, Comics, Games, Early Learning Toys, Films, Arts & Crafts, Science & Technology; or even Black Dolls, jewellery, Traditional Afrikan Wear, T-Shirts and other wears – THIS IS THE MARKET FOR YOU!
***SPECIAL OFFER***
20% OFF ALL STALLS BOOK BEFORE 4th MARCH!
To take advantage of this offer Call: 07896462408
If you are a Black Saturday School, Home Schoolers Group, Tutoring Service or Projecting running programmes for Afrikan-Caribbean Children – THIS IS THE MARKET FOR YOU!
FOR PARENTS, CAREERS, EDUCATORS & FAMILIES
We are opening the doors to the community absolute FREE, so that as many people as possible will be able to take advantage of this unique opportunity.
The day will also feature TEACHING BLACK CHILDREN Workshops from three stalwart Educationalists in our community:
+more including workshops for the children
Stay tuned for more information at medukation.com. The most efficient means of keeping in touch is to join our mailing list (medukation.com/contact). We look forward to making this contribution to the education of our children alongside all others who are doing this worthy & great work.
Medaase Pa (Thank you) for Reading!