The Ballot And the Bullet Electoral Campaign School
June 13, 2020 @ 10:00 am

-

June 14, 2020 @ 4:00 pm
Event Navigation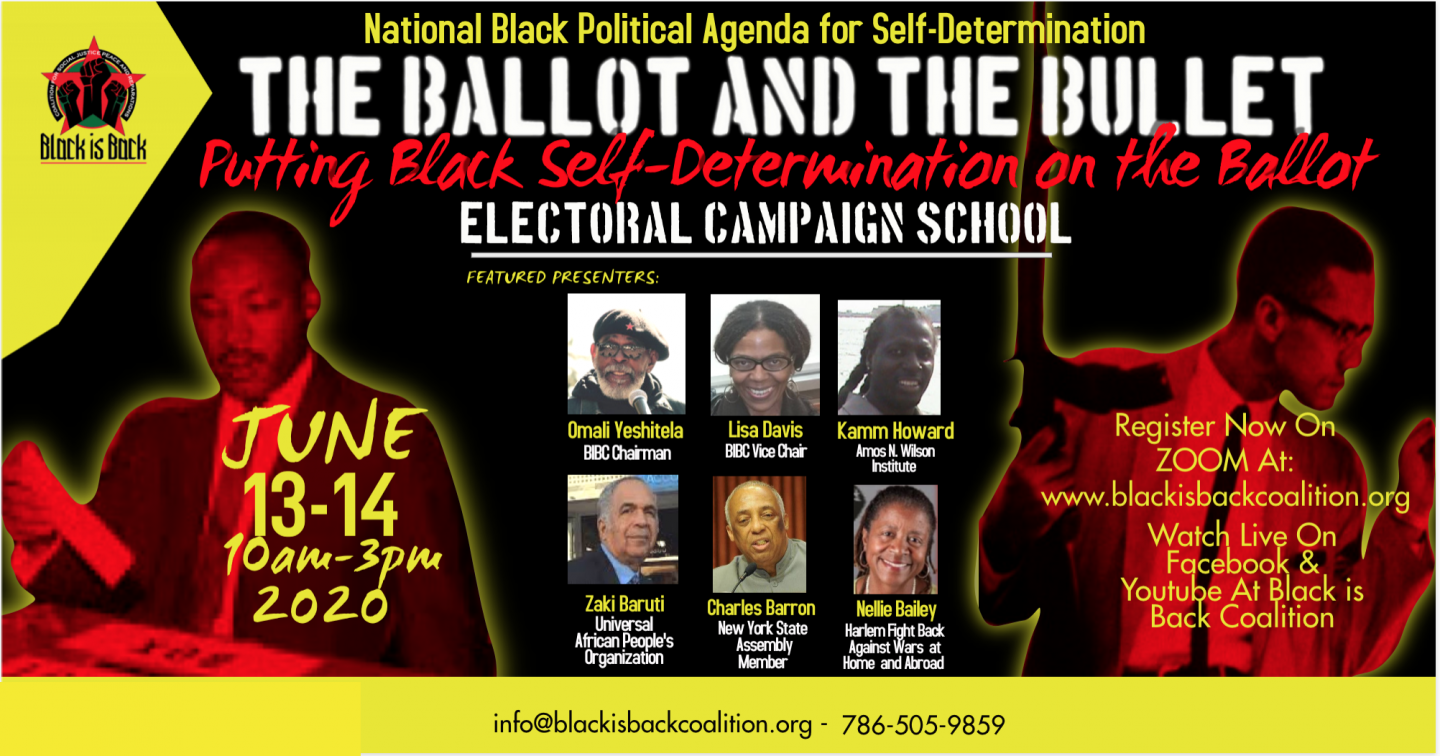 The Black is Back Coalition's 4th Electoral Campaign School, where we teach ordinary black people how to run for office with black power!
The Black is Back Coalition for Social Justice, Peace and Reparations will convene its fourth Electoral Campaign School June 13-14, via Zoom Webinar.
The Electoral Campaign School is a means by which the Coalition opens up a new front in the struggle for black self-determination within the U.S. and elsewhere.
It will challenge the monopoly of the electoral arena by a select sector of our community that has special ties to capitalist white power.
We will teach ordinary African people – workers, activists, women and youth – how to run for office.
The Black is Back Electoral School will also address the age-old question of whether or not there are any legitimate gains to be won by Africans participating in elections in a capitalist system.
Our Coalition has concluded that elections are not the only method of struggle and we have responded to the 1963 declaration by Malcolm X of "the ballot or the bullet," with the timely refrain that it will be the ballot and the bullet.
In 2016, the Black is Back Coalition laid the foundation for participation in any election by initiating a successful year-long popular process to create a National Black Political Agenda for Self-determination as a general guide to political work throughout the U.S.
In April of 2017, we held our first Electoral Campaign School in St. Petersburg, Florida, attended by Africans from several states within the U.S.
In addition to teaching African people the steps for running for office, we were intent on arming activists with a platform for self-determination as the basis for their electoral campaigns.
The Coalition has turned over custody of an electoral process that has historically been separated from and used against our people and struggle. We now have a tool that we can use to positively affect the lives of our community.
Our National Black Political Agenda for Self-determination provides us with a program that is both historical and timely.