Windrush 70th Anniversary Special Celebration Evening
June 23, 2018 @ 7:00 pm

-

11:30 pm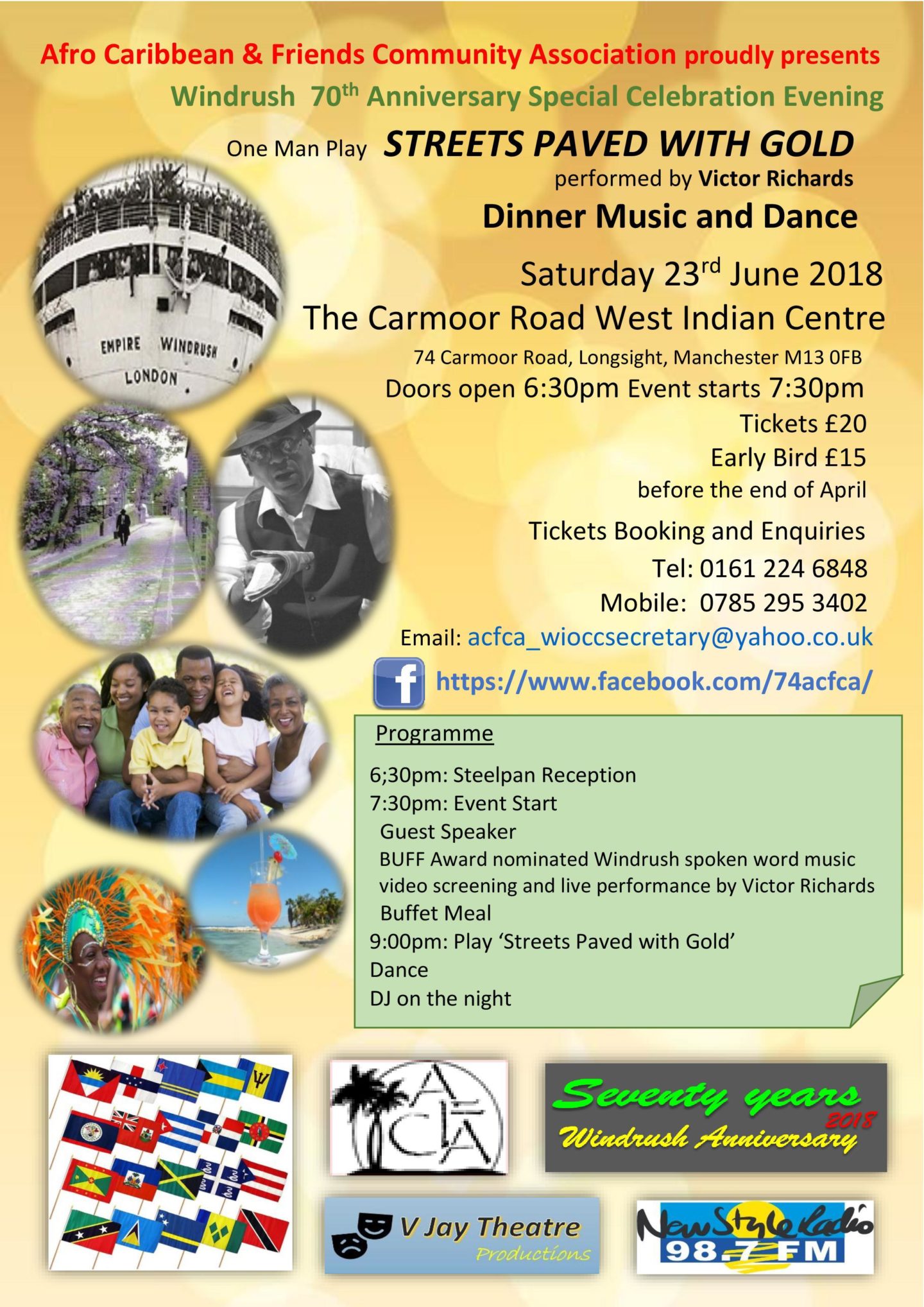 (Manchester) Windrush  70th Anniversary Gala Celebration of Empire Windrush arrival at Tilbury Docks.
The arrival of the first mass movement of West Indian men from the Caribbean following the Second World War to assist the rebuilding effort of Britain was a significant moment of British History. The Empire Windrush ship arrived in Tilbury Docks London on June 22nd 1948.
This former German cruise boat, the Empire Windrush, brought approximately 500 men from the West Indies, the majority from Jamaica, to work in various areas of post war Britain reconstruction. This year, 2018, will be 70 years since the landing of this ship at the Thames.
The arrival laid the foundation for many of the legislations and working conditions for many migrants moving to England. Their initial material contribution to the subsequent development of Britain and its various industries have stood the test of time and at the important milestone of its 70th Anniversary, it is worth special reflections and celebration by all, especially the West Indian community throughout the Country.
The Afro Caribbean and Friends Community Association with the staging of Victor Richard's Play "Streets played with Gold" will give a vivid and most rewarding insight of this generation's settlement and contribution in England.
This Manchester based organisation has been operating for over fifty years and was inspired by some of the men who were from the Windrush generation. The organisation continues to focus on delivering a range of community activities; cultural activities, a Supplementary School and signposting many people to get relevant advice and liaise with their respective Caribbean Island communities here in the UK and back in the West Indies.
Come and join us for an evening of Caribbean Culture, delicious food, music and much more – show up in style for this important piece of British/Caribbean History!