YOUNG REBEL AND BLACK: Filmmaker Menelik Shabazz Presents His Rarely Seen Films
October 26, 2017 @ 6:00 pm

-

8:00 pm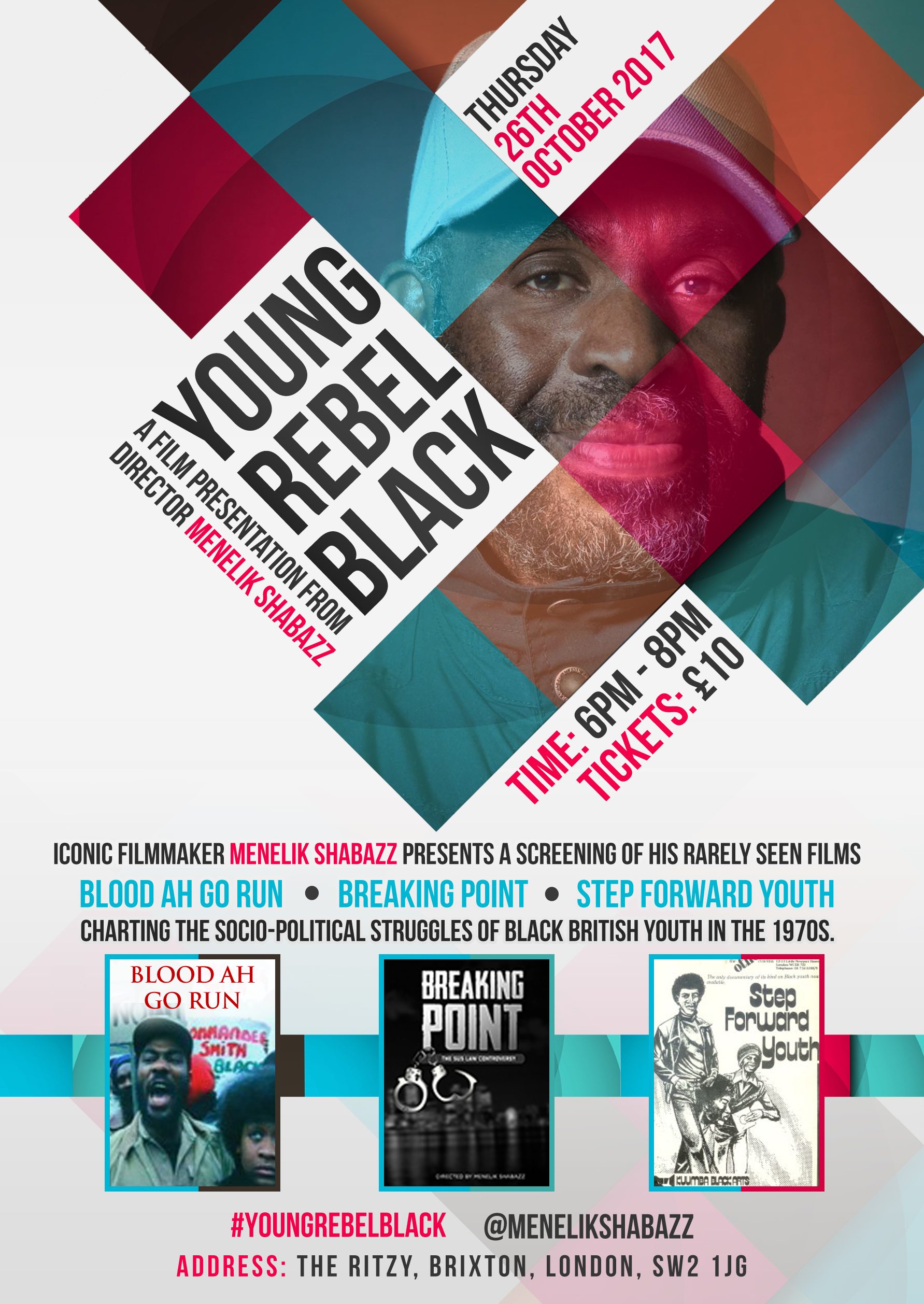 Made between 1976 and 1982, the films in those times documented the denigration of Black youth via base media programmes and press reports, racist targeting by the police and sub-standard treatment by the education, judicial and employment systems.
Come 2017, Black peoples' current socio-political position shows that Shabazz's films are still as relevant today as they were when first made. The films deliver candid observations from Black youth about being born British, of Caribbean parentage trying to navigate their own pathways as Black people in a White world.
With the rise of the movement Black Lives Matters in the USA and Britain; the increased reports of race-related crimes since the UK's June 2016 referendum and 'Brexit'; with David Lammy MP's report showing that the justice system is stacked against black and ethnic minority defendants, the films are as important now as when they were first released.

Blood Ah Go Run 1982
1981 sees the Black Peoples Day of Action in London. It was a powerful march in protest against the mistreatment by police and other authorities, of the families, friends and community of the 13 young people who died in a fire at a birthday party in New Cross, south east London. People were convinced that the attack was racist – a claim denied by the police. To-date, no one has been charged or arrested for any of the deaths of the 13. Blood Ah Go Run is a documentation of that momentous march starting from Deptford to central London, which was filled with collective action and purpose.
Breaking Point (1978)
The notorious 'SUS' laws of Britain were punitive in their means of subjugating black people to disproportionate levels. Statistics show that black men in 2016 are still disproportionately stopped and searched by police. With interviews from the late academic, Stuart Hall and former MP for Brent South Paul Boateng, Breaking Point attempts to dissect this period of 1970s Britain and its impact upon the burgeoning black communities of the time. It is the first documentary directed by a Black director for mainstream British television.
Step Forward Youth1977
They'd planned to come to the 'Mother Country' to work enough money to send and then go 'back home', but most of the first folks invited from the Caribbean to rebuild a post-war Britain found they would indeed stay in the UK. Of course their children, born in Britain had different ideas about their relationship with the 'Mother Country'. This generation found themselves at the sharp end of press and media reports, which persistently marked them as criminals. Step Forward Youth looks at how this relationship became fractious with authorities and in archive footage, the film speaks with Black youth discuss their experiences with the police, school and parents.
About Menelik Shabazz
Considered to be a Godfather of Black British film, Menelik Shabazz counts 'The Story of Lovers Rock 2011', 'Looking For Love 2015' and the milestone film, which is 'Burning an Illusion 1981' as part of his cannon. He is the founder of the bfm International Film Festival in 1999 as well as the BFM magazine.
Born in Barbados in 1954 and alumni of the London International Film School, Shabazz has won awards to include the Grand Prix and Amien International Film Festival in 1982 for the film 'Burning an Illusion'.
With the film 'Looking for Love', he's used this production to form the basis of a movement to support the transformation and healing of relationships within the Black community through the 'Love-A-Lution' series of events.
Menelik's latest work is via his birthplace, Barbados where he is making a soap opera called 'Heat'.
Tickets may be purchased  from this link: http://menelikshabazz.co.uk/young-rebel-and-black/