When logged in you can personalise your front page with information important to you, if logged out you can subscribe to your favourite categories by email. Welcome to Blacknet.
Caribbean Food and Drink Conference
August 18, 2017 @ 10:30 am

-

5:30 pm
Event Navigation
Organiser:
WP Router Placeholder Page
Event: Caribbean Food and Drink Conference
Start Date: 18 Aug 2017 10:30 am
End Date: 18 Aug 2017 5:30 pm
Venue: Online Event

Influential business leaders from the UK and #Caribbean come together to speak at the first ever Caribbean Food and Drink Conference. They include Dr Dalip Ragoobirsingh from #Jamaica, Bryan Treherne, MBE, Julian Edwards, Michelle Berriedale-Johnson, Dr Gilbertha St Rose from Saint Lucia, Ambassador Edwin Laurent, CBE, Carol Hay, from Caribbean Tourism Organisation among several others.
They will be speaking on subjects as diverse as UK #TradeRegulations, #Export, Labelling, Diabetes and Intellectual Property. Baroness Howells of St David's and International actor Joseph Marcell are Patrons while #LambethCollege and #GVMedia are education and media partners, respectively. Celebrity chef and TV Presenter #LeviRoots, who slayed the Dragons in BBC TV's, ' #Dragon'sDen' with his Reggae, Reggae sauce and a musical rendition, will be delivering a motivational address at the Conference. The #CaribbeanFood and Drink Conference will be hosted at Lambeth College on Friday 18 August with presentations, break-out sessions and one to one consultations between buyers and sellers. To find out how you can get involved, advertise or exhibit at the #CaribbeanFoodandDrink Conference, visit www.caribbeanfoodanddrinkconference.com or call 0207 856 0376.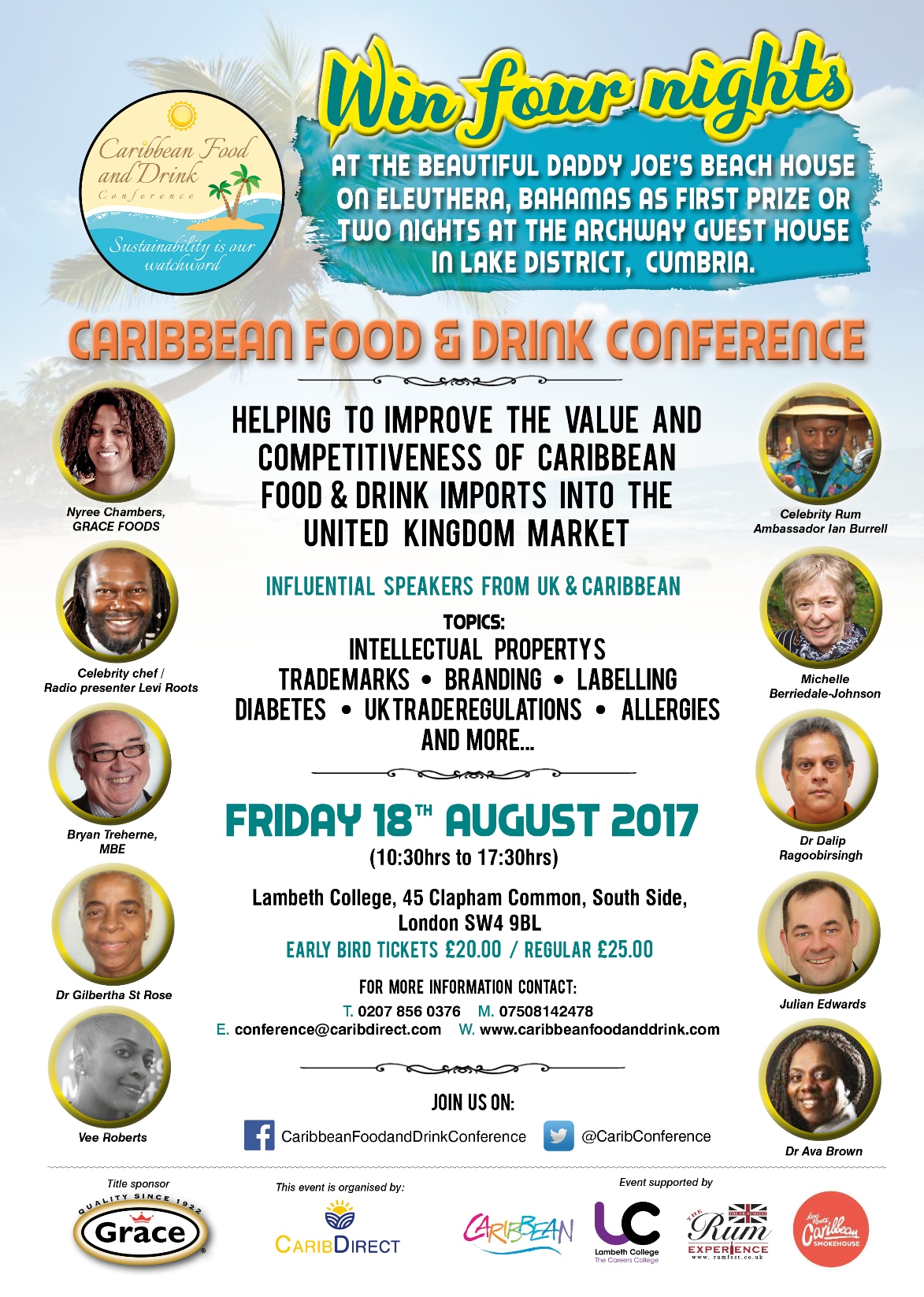 Event Category:
Event Tags:
Thanks for visiting, you can use the button below to quickly share with your friends, family or colleagues
Related Events