COVID-19 Impact on BAME Community: Challenges and Solutions
June 18, 2020 @ 6:00 pm

-

7:00 pm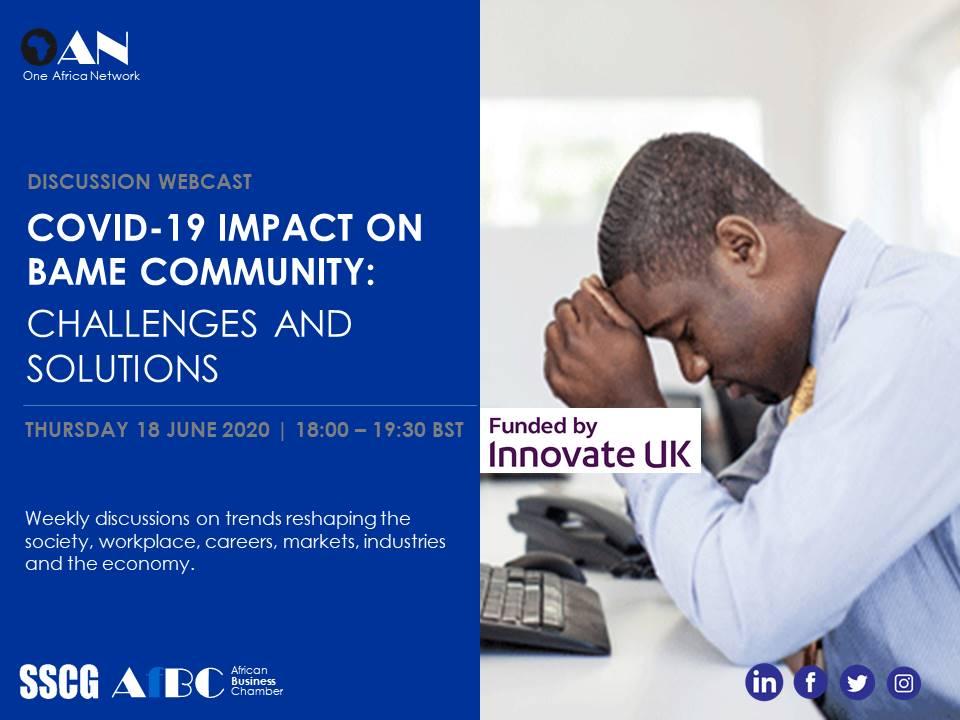 Weekly discussions on trends reshaping the society, workplace, careers, markets, industries and the economy.
The impact of COVID-19 has hit every British household. However, statistics have shown that Black, Asian and Minority Ethnic (BAME) community are more vulnerable to COVID-19 which invariably has wider social economic implications i.e. work, poverty and immigration laws
Not only are BAME community disproportionately impacted by health inequalities, the economic impact is likely to hit them harder too, with rates of poverty in BAME communities being twice that other communities.
Join One Africa Network (OAN) live discussion webcast on COVID-19 Impact on BAME Community: Challenges and Solutions on Thursday 18 June 2020 at 18:00 BST to learn and hear from our panel of experts as they share their thoughts, experiences, perspectives and solutions.
AGENDA:
Why disproportionate impact on BAME community
Social economic issues: employment, living standards, lifestyle and health
Financial and economic implications
Impact on small businesses and wider UK economy
The role of government policies and impact on social narrative
SPEAKERS
JOINING DETAILS
Joining details for the meeting will be shared after completing your registration.
ABOUT ONE AFRICA NETWORK
One Africa Network (OAN) is a membership-based think tank and social development organisation that focuses on issues that affect black and African businesses, entrepreneurs and professionals. We are committed to advancing entrepreneurship, innovation, excellence, inclusiveness and sustainable economic growth.
OAN serve as an important catalyst for brokering ideas and actions, stimulate thought provoking debates and offer creative and practical solutions to tackle and address World most pressing problems.
OAN is hosting a new series of virtual events, as we continue on our mission of informing, inspiring, and connecting audiences around the world during these uncertain times. Our virtual webcast will bring together leaders, businesses, professionals, industry experts, entrepreneurs and influencers to discuss the most important topics in business, finance and society today. Join to connect and gain insights, market updates and better understanding on some of the positives and opportunities arising from current rapidly evolving global economy, key priorities and where to direct the right focus.
We remain committed to bringing you objective, solutions-based discussions and opportunities for connection.
Follow our discussions and tweet us @OneAfricaNetwork using the hashtags #OneAfricaNetwork
Visit www.oneafrica-network.com for more details
GDPR COMPLIANCE
By registering to attend our events, you consent for us to hold your personal data and usage of event images inline with General Data Protection Regulation (GDPR) Compliance. We assure you that your data will be kept confidential and only be used to keep you updated of our events activities. For further inquiries, please email info@sscg-group.com.