Free Screening: Maafa Truth 2007 – Thursday 21st September 2017
September 21, 2017 @ 7:00 pm

-

9:30 pm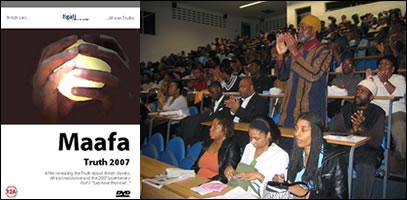 The #Abolition of the #SlaveTradeAct 1807 was an Act of the Parliament of the United Kingdom, which was passed on 25 March 1807. March 2017 is the 210th anniversary of this event.
After the Abolition of the Slave Trade Act 1807, holding previously enslaved people was still legal and no enslaved people were freed by the Act – so the struggle continued. London played a central role in Britain's involvement in the transatlantic trade in enslaved Africans. Because London was Britain's major port, ships owned by #London merchants dominated the trade during the 17th and early 18th centuries.
A drop kick to the head of the  mainstream coverage of the bicentenary of the abolition of the "Slave Trade"  in 2007: this is an uncompromising documentary with contributions from community activists, project workers, teachers, historians and members of the #AfricanBritish business community. #Maafa explodes received ideas about #Britishslavery and presents another #history of the #African holocaust while examining the politics of the British government's bicentenary celebrations. Screening will be followed by a discussion.
THIS EVENT IS NOT TO BE MISSED!!
BRING YOUR CHILDREN TO LEARN ABOUT AFRICAN HISTORY NOT TAUGHT IN SCHOOLS!!
This event will take place on THURSDAY 21ST SEPTEMBER 2017 from 7pm to 9pm.
Doors open at 6.30pm.
This event will be held at St Ann's Library, Cissbury Road, Tottenham, London, N15 5PU. Approx 10 mins walk from Seven Sisters Station. On street parking. Buses 67, 259, 279 stop nearby.
Admission will be FREE. Donations would be appreciated.
PLEASE ARRIVE AT LEAST 15 MINUTES EARLY. 
EATING IS UNRESERVED AVAILABLE ON A FIRST COME FIRS SERVED BASIS. THOSE WHO BOOK THEIR TICKETS GET PRIORITY ENTRANCE.
Places for this event are limited so if you are interested in attending please reply as soon as possible to acknowledge your place.
Places will be allocated on a first come first served basis, so don't delay.
Please note that this event will be filmed and photographed for historical record and uploaded to the World Wide Web. By attending and participating in this event, you are giving your consent to be filmed and waiving any and all claims regarding the use of your image.

FAQs
What are my transport/parking options getting to the event?
By Train: Seven Sisters Underground & Mainline Rail Station (from Liverpool St)
By Tube: Seven Sisters (Victoria Line)
By Bus: Numbers 67, 259, 279 stop nearby
#blackhistory #blackhistorymonth #bhm #history
.