North London Premiere: African History of Sport – Saturday 21st October 2017
October 21, 2017 @ 6:00 pm

-

8:00 pm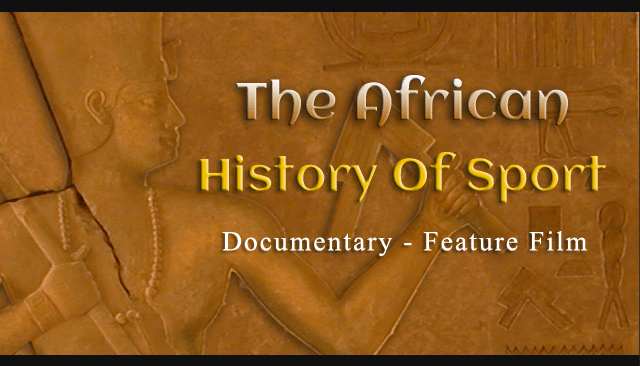 #BlackHistoryStudies in association with the #InsituteofBlackCulture, Media and Sport presents the North London Premiere of the 'African History of Sport' documentary.
"At least five thousand years ago, ancient #African civilisations in KMT/Egypt, Nubia/Sudan, #Ethiopia and Nile Valley E   ast African kingdoms, invented a 'Grand Philosophy' which they called several names, including Sewetwet and Sedjay Her.
For the peoples of the Nile, "Sewetwet" or "Sedjay Her", was the ultimate union of brain, brawn and spirit. They used it for pleasure, leisure, Warcraft or military training, governance and foreign policy; and treated it on par with intellectual fields like: Religion, law, medicine, natural sciences, and Art. And certainly, a combination of all of the above.
These activities have become known and popularly practiced as Sport.
Today, few education systems in the world; if any, treat sport as a product of thought; for example, the British National Curriculum introduces sport to children, as physical education, or PE. Ironically, sport involves all intellectual properties or characteristics; but has never been treated respectfully by any 'modern' education system. Why is this?!!
Perhaps, this is because the "Grand Philosophy of Sewetwet" invented by Black Africans, did not survive invasion and colonisation by Greeks; or colonization and enslavement by Romans, Arabs and Western Europeans; all of whom destroyed the philosophical and spiritual premise of Sewetwet; and reduced it to physical activities for the brawny. This film revisits scenes of ancient glory."
THIS EVENT IS NOT TO BE MISSED!!
BRING YOUR CHILDREN TO LEARN ABOUT AFRICAN HISTORY NOT TAUGHT IN SCHOOLS!!
This event will take place on SATURDAY 21ST OCTOBER 2017 from 6pm to 8pm.
Doors open at 5.30pm.
This event will be held at St Ann's Library, Cissbury Road, Tottenham, London, N15 5PU. Approx 10 mins walk from Seven Sisters Station. On street parking. Buses 67, 259, 279 stop nearby.
Admission will be FREE. Donations would be appreciated.
PLEASE ARRIVE AT LEAST 15 MINUTES EARLY. 
EATING IS UNRESERVED AVAILABLE ON A FIRST COME FIRS SERVED BASIS. THOSE WHO BOOK THEIR TICKETS GET PRIORITY ENTRANCE.
Places for this event are limited so if you are interested in attending please reply as soon as possible to acknowledge your place.
Places will be allocated on a first come first served basis, so don't delay.
Please note that this event will be filmed and photographed for historical record and uploaded to the World Wide Web. By attending and participating in this event, you are giving your consent to be filmed and waiving any and all claims regarding the use of your image.

FAQs
What are my transport/parking options getting to the event?
By Train: Seven Sisters Underground & Mainline Rail Station (from Liverpool St)
By Tube: Seven Sisters (Victoria Line)
By Bus: Numbers 67, 259, 279 stop nearby
#blackhistory #blackhistorymonth #bhm #history
.