UK Education: A Tool or Limitation for Black Women? | Superwoman2017
October 12, 2017 @ 6:00 pm

-

9:30 pm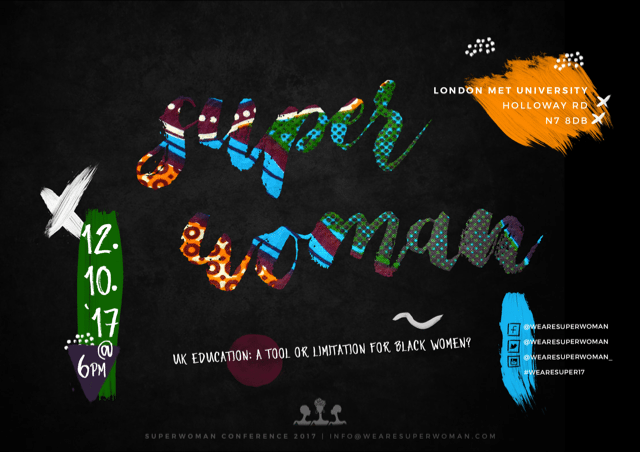 The Superwoman Conference is B A C K this Black History Month with an exciting panel of inspirational speakers, a dynamic performance, interactive discussion and FREE GIFTS to give away.
At this event, O P E N for A L L to attend (yes, men that includes you), Superwoman 2017 aims to bring people together to celebrate the strength and achievements of women of colour in UK.
J O I N U S on Thursday 12 October 2017, 6pm at the London Metropolitan University, Holloway Road and interact with our inspirational panel as we delve into deep discussions based on Black British experience in the UK.
This is the third 'Superwoman' conference. In the first year we focused on Women in Leadership, celebrating strength in womanhood. The second year focused on the impact of Black women in British society. Panel guests have included award winning writer Reni Eddo-Lodge, dynamic spoken-word artist DYLEMA & Tobi Oredein, editor of lifestyle publication, Black Ballad.
This year's theme will be exploring the extent to which education in the UK has acted as tool or a limitation for Black women.
Keep your eyes peeled for information on our panellists!
Get your E A R L Y B I R D tickets N O W for just £5 for tasty food (courtesy of @monaskitchen_2017), thought-provoking conversation and free gifts!  
Let's make connections, empower one another, promote local business and have a damn good time while doing it!
Connect with us on Twitter / Facebook @wearesuperwoman and Instagram @wearesuperwoman_
To contact us, e-mail info@wearesuperwoman.com